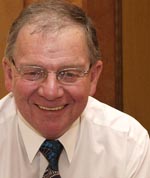 A senior Charles Sturt University (CSU) education expert recommends parents, grandparents and early childhood educators should use play time to help develop mathematical concepts in young children.
Professor Bob Perry from CSU's School of Education, who co-authored a new book titled Young children learning mathematics: A guide for educators and families, is adamant that early learning helps provide a foundation for success at school.
"But we also need to ensure that learning is fun and rewarding," Professor Perry said.
In the book published by the Australian Council for Educational Research, Professor Perry joined fellow academics Dr Robert Hunting from La Trobe University and Associate Professor Judy Mousley from Deakin University to explore how adults can stimulate young children's mathematical thinking from birth through to when they start school.
The book details mathematical concepts that can be developed in young children, such as arranging, sorting, comparing quantities, counting, filling and emptying, joining, matching, patterning, splitting and sharing.
The authors also emphasise the importance of getting young children to think mathematically while enjoying what they are doing. The importance of play and the role of families in young children's mathematical learning are emphasised throughout the book.
"Adults – teachers, carers and parents – can notice, explore and talk about the mathematics they find in everyday activities such as playing in sand or water or helping with the cooking," Professor Perry said.
"Children can help sort out the cutlery before the family uses them. This will provide experience in recognising different shapes and sizes as well as counting," he said.
The book advises adults on how to engage with children as they play and ask supportive, challenging and open-ended questions to provoke children's thinking and extend their investigations.
"There is mathematics in everything children do. We adults need to recognise this mathematics, explore it with the children and use it to provoke their thinking," Professor Perry said.
Based on extensive research, particularly in rural and regional Australia, Young Children Learning Mathematics will assist early childhood educators and carers to meet the learning outcomes of the new Early Years Learning Framework for Australia.
The book will also help parents, grandparents and other family members ensure that their child learns about mathematics and, most importantly, feels good about doing so.