A Charles Sturt University (CSU) academic says the massive data breach known as 'The Panama Papers' detailing the use of offshore tax havens by the global elite highlights its significance for our interconnected world.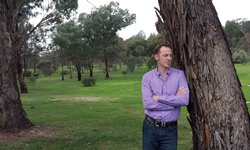 Lecturer in the CSU School of Information Studies Dr Jake Wallis said, "What has been dubbed 'The Panama Papers' are a very clear demonstration and warning of the capabilities of a persistent and skilled individual hacker.
"This unknown hacker has been able to get into networks regardless of what industry, business or government is involved.
"This shows organisations as well as states that cyber security is now about their need to accommodate and plan for what is likely to happen, and work on the basis of 'threat protection'.
"They need to operate on the understanding that their cyber security could be breached by an intrusion directed from potentially any location in our interconnected world," Dr Wallis said.
The Panama Papers represent 2.6 terabytes of data and 11.5 million documents from the Panamanian legal firm Mossack Fonesca which were leaked to the media. The contents of the data leak were subject to a lengthy investigation by the International Consortium of Investigative Journalists, German newspaper Süddeutsche Zeitung and more than 100 other news organisations, including the Australian Broadcasting Corporation and the Australian Financial Review.
Dr Wallis said, "A massive amount of information - 2 000 times larger than the WikiLeak's Cablegate breach of 2010 - has been leaked by the unknown hacker.
"The increasing amount of data involved in WikiLeaks and the Panama Papers is in line with Moore's Law, a computering principle, which states that the capacity of computers to process larger and larger amounts of data increases exponentially."
Dr Wallis said there is a dramatic change in the approach to cyber security due to the interconnectivity of devices. Organisations rely on communication between multiple devices and the internet which increases the potential for network intrusion.
"It is not just about crime, this is also a matter of national security," he said "Interconnected computer networks monitor and control our essential physical and economic infrastructure, such as energy supply, transport routes, banking or the databases that facilitate the delivery of public services.
"In this context, malicious cyber intrusions have the potential to debilitate the functioning of governments.
"Another interesting feature of the Panama Papers leak is that it shows the development and rise of 'data journalism' to interpret the massive amount of information and feed that information to the wider global community."
Dr Wallis' research explores the social and political implications of digital networks, with a focus on security issues. His expertise currently informs professional practice at the North Atlantic Treaty Organisation (NATO), the Australian Army, and the Queensland government's Public Safety Business Agency.