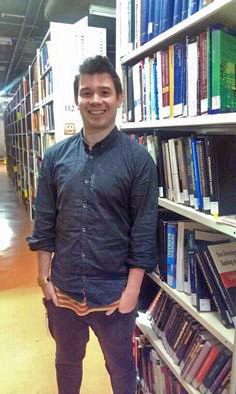 A Charles Sturt University (CSU) student has been awarded the Australian Society of Archivists (ASA) Loris Williams Scholarship for his commitment to Indigenous issues in libraries and archives, in particular Indigenous intellectual property.
Mr Nathan Sentance is currently studying a Bachelor of Information Studies at CSU's School of Information Studies. He is studying online while he works in the Indigenous Services Branch of the State Library of New South Wales.
"I am a proud Wiradjuri descendant and my family is originally from the Wellington area ," Mr Sentance said.
"I believe Indigenous intellectual property is an important part of Indigenous communities owning and managing their history, culture and stories.
"Libraries and archives contain a lot information regarding Indigenous people and our culture. Recognising Indigenous communities as the co-creators and or joint copyright holders of this information is an important step in assisting Indigenous Australians manage information by and about our people and culture."
Much of the information Mr Sentance has worked with has been recorded by non-Indigenous people and he hopes to see libraries and archives add more Indigenous perspectives to historic collections by inviting Indigenous Australians to provide context to collections and records.
Mr Sentance hopes to use his scholarship to support his studies and raise awareness of Indigenous issues in archives.
"I think the Loris Williams scholarship is a great initiative and will help to increase the number of Indigenous librarians and archivists, helping libraries and archives to be more engaging and accessible to Indigenous Australians," Mr Sentance said.
"I am particularly excited about the mentor aspect of this scholarship as it will help guide my studies and work. I am excited to be working and studying in an industry that can be so beneficial for people and communities."
For more information about the Australian Society of Archivists (ASA) Loris Williams Scholarship visit the ASA website.