Two Charles Sturt University (CSU) staff and a team have received citations in 2009 from the Australian Learning and Teaching Council (ALTC) for excellence in learning and teaching at the University.
The prestigious awards recognise longstanding contributions to the quality of student learning and improving the overall student experience. Each citation winner receives $10 000 from the Federal Government.
CSU Vice-Chancellor and President Professor Ian Goulter congratulated the winners for their awards.
"The work of CSU's award winners exemplifies innovation, excellence, and teaching in a variety of modes and highlights the depth and spread of teaching expertise across the University, among academic and professional staff," he said.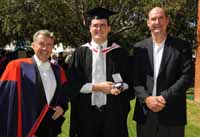 "Significantly, one of the awards was for a distinctive and already award-winning online CSU program for first-year university students who are struggling with their studies. Since the program went live a decade ago, 23,000 students have accessed any of STUDY LINK's 18 self-paced subjects, all of which are free to Commonwealth supported students at CSU or for a fee for those from any other Australian university.
"CSU has continuously evaluated the program and last year commissioned an external study – completed by a Monash University academic – which concluded it had a 'positive effect on student attrition rates' and was an important benchmark for the higher education sector in first year experience programs."
The CSU winners will receive their awards at a ceremony at Old Parliament House in Canberra at 4pm on Wednesday 5 August. They are:
CSU STUDY LINK team, coordinated by Ms Liz Smith, Bathurst: for excellence in the provision of a tertiary preparation program for more than 23,000 students over a decade, proven to increase skills, knowledge and confidence. read more

Ms Amanda Davies, from the School of Policing Studies, Goulburn: for enthusiam innovation commitment and quality in teaching and learning practices for police recruits, fire investigators and academics. read more

Dr Graeme McLean, from the School of Humanities and Social Sciences, Wagga Wagga: for sustained excellence in the teaching of philosophy to a variety of students in a variety of modes. read more