A leading education researcher at Charles Sturt University (CSU) has released a new book recognising that young writers need support from a very early age.
Associate Professor Noella Mackenzie in the CSU School of Education co-edited and co-wrote a number of book chapters in Understanding and supporting Young Writers from Birth to 8 that explore what it means to be a young child learning to write in the 21st Century.
---
Listen to Associate Professor Noella Mackenzie
Loading...
---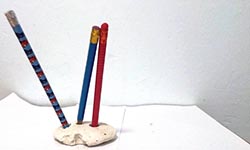 "Writing has possibly eclipsed reading as the critical literacy skill for children to learn," Professor Mackenzie said.
"The book fills a gap in literacy education, and provides practitioners such as early childhood and primary school teachers with the skills and knowledge they need to effectively support young children as they learn to write.
"We wanted to interweave theory and research with everyday practice. The book offers guidance on all aspects of writing, from building vocabulary and creating multimodal texts to supporting children who find writing very challenging."
The book is also uniquely Australian. "The chapter authors, the research, the children, the children's examples, are all in the Australian educational context.
"We wrote a book for Australian early childhood educators, early years school teachers, and teacher education students, although some parents may also find the book of interest," said Professor Mackenzie.
Understanding and supporting Young Writers from Birth to 8 is published by Routledge Australia and is available in paperback, hard cover and e-Book formats. See the Routledge website for details and to purchase.