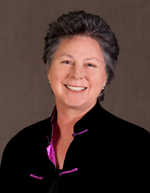 Charles Sturt University (CSU) has announced the appointment to a newly created senior role with a focus on e-technologies at the forefront of innovation.
CSU Deputy Vice-Chancellor (Academic), Professor Garry Marchant, today announced the appointment of Professor Sandra Wills to the role of Pro Vice-Chancellor, Student Learning.
"This represents a new era that will cement the University's reputation as a national leader and significant international provider of distance education," Professor Marchant said.
"A self-described 'digital native' since the 1970s, decades before the term was coined, Professor Wills has 40 years international experience in the fields of both education and technology across the spectrum of education including school, TAFE, business, government and university.
"Her roles have ranged from teacher, sessional lecturer, academic, courseware developer, technology entrepreneur, industry analyst, quality auditor and public speaker, to senior manager and board director in public and private educational enterprises."
Professor Wills is an international researcher and author in educational innovation and has delivered over 120 invited and keynote addresses in 22 countries. She comes to CSU from the University of Wollongong where her most recent roles include Executive Director, Learning and Teaching, and Executive Director, Higher Education Policy and Research.
As a pioneer of multimedia, distance education and e-learning, Professor Wills's initiatives have been recognised through national and international awards including an Australian Learning and Teaching Council citation for strategic leadership in global e-learning; Fellow of both the Australian Computer Society and Australian Council for Computers in Education; Silver Core from the International Federation for Information Processing; and Open Learning Network Fellow of the Open University in the UK.
Her latest co-authored book, The Power of Role-based e-Learning (Routledge, 2011), caps more than ten years research about learning designs and online role-play funded by Australian learning and teaching grants. Her most recent grant is from the UK Higher Education Academy for international benchmarking on recognition of teaching in academic promotion.
Professor Wills will commence at CSU in Bathurst in November 2013.