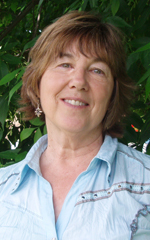 The similarities, differences, challenges and opportunities for rural school education in Canada and Australia are the focus of a public lecture by a visiting Canadian rural teaching expert at Charles Sturt University (CSU) in Bathurst on Wednesday 9 November.
Professor Linda Farr Darling, the first Eleanor Rix Professor of
Rural Teacher Education
at the University of British Columbia (UBC) in Canada, is a guest of the CSU
School of Teacher Education
. She will speak in the newly-operational
Connected Learning Space
at CSU in Bathurst to educators and teachers from the Bathurst region, and simultaneously and interactively to audiences at CSU in Wagga Wagga, Albury-Wodonga, Orange and Dubbo.
The lecture, titled
Rural School Landscapes in British Columbia: Mapping the terrain for teachers and teacher educators
, examines research arising from a 2003 government of
British Columbia
task force to investigate strengths and challenges faced by rural schools across the province. A report with 19 recommendations was delivered to the Ministry of Education. In 2010 Professor Farr Darling teamed with Professor Terri MacDonald (British Columbia Chair of Rural Economic Development) to revisit the same school landscapes to discover what may have changed in the intervening years, and to see whether recommendations, if implemented, had made positive differences to the rural schools. In the public lecture, she will describe their research findings, and outline the recent steps taken by the province and UBC to support innovative teaching practices in rural and remote communities, and prepare new teachers for these settings.
Professor Linda Farr Darling, who oversees the
research
in rural teaching of eight graduate students, will emphasise that while there were similarities between Canada and Australia, and more particularly British Columbia and NSW, such as their vast areas, their respective distinctions pose challenges that could only be addressed by local knowledge and initiative.
"
British Columbia
is the western-most province of Canada, with the Pacific Ocean its western boundary. It is very mountainous, and many parts are frequently snow-bound. The nature of the topography makes it difficult to deliver broadband communication systems to remote rural communities and schools," she said.
"We also have great social diversity, with a multi-cultural population including Indigenous Canadians and communities that still speak Russian a hundred years after their forebears settled here from the Ukraine.
"One similarity I note with my counterparts here at Charles Sturt University is our desire to ensure that children in rural areas receive the same educational opportunities and standards as children in urban areas. The research by several academics here reflects the research we are doing in Canada, in that we have identified that there is great potential for schooling to play a central role in revitalising rural areas."