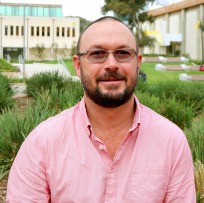 Award winning research by a Charles Sturt University (CSU) PhD graduate argues for the need to reposition 'the rural' in education policy and research.
Dr Philip Roberts (pictured) recently received the American Educational Research Association (AERA) Rural Education Special Interest Group Dissertation Award at its annual conference in Texas, USA.
Dr Roberts said that by using a rural standpoint, his dissertation offers new insights into how rural educational disadvantage is socially, and spatially, produced in rural areas of NSW, Australia.
"I argue that the rural is often positioned on the periphery of mainstream, normative educational research and compared to an imaginary metropolitan norm," Dr Roberts said.
"Indeed, my research found that there is a clear metropolitan-cosmopolitan knowledge hierarchy – which includes the existence of high-status subjects – in which student access and success is mediated by school location.
"This positioning does not allow rural meanings to be explored, or the rural to be considered in its own terms."
Dr Roberts realised it was necessary for him to develop a new research perspective to explore place, social justice, curriculum, and rural teaching in a manner that allows rural meanings to be at the forefront.
"The resulting 'rural standpoint', a perspective that works in, for and with the rural to value rural people and communities and the knowledges produced therein, enables this," he said.
His examination of rural educational provision and achievement from this point of view strategically privileges the rural, and raises important questions about how equity funding is currently distributed, and also about how teachers engage with place, and the nature of the curriculum provided to students in rural areas.
Dr Roberts' CSU doctoral supervisor Emeritus Professor Bill Green notes, "His historical analysis of equity policy related to curriculum reveals the inadequacy of the dominant perspective that curriculum is neutral, and that centralised distributive policies will ensure equity for rural students."
"My spatial analysis of curriculum access and achievement data revealed the problem needs to be re-framed so 'the rural' is given due weight and attention in future education and research policy," Dr Roberts said.
The dissertation is 'Place, rural education and social justice: A study of rural teaching and curriculum politics', by Dr Philip Roberts PhD (August 2016) http://primo.unilinc.edu.au/primo_library/libweb/action/dlDisplay.do?vid=CSU2&docId=dtl_csu88595