* CSU is a significant provider of teacher education and is dependent on schools for professional experience placements for students
* Practical work experience in classrooms is vital to develop student teachers' professional understanding and competence
* Work-based learning opportunities enable students to apply theory in practice, to receive guidance and feedback, and to contribute to their host schools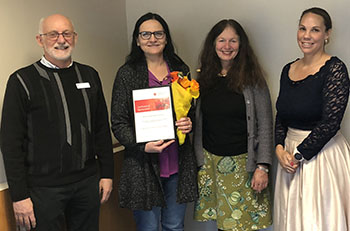 Students in the Charles Sturt University (CSU) School of Teacher Education and the School of Education programs depend largely on the network of schools and early childhood services across regional NSW to provide practical work experience opportunities in classrooms in order to develop their professional understanding and competence.
Dr Clare Power (pictured second from right), Workplace Learning Coordinator in the CSU Faculty of Arts and Education, said, "Charles Sturt University knows firsthand how important it is to build relationships with schools that will support teacher education students.
"The University is a significant provider of teacher education and we rely on schools and services to provide professional experience placements for teacher education students.
"For example, in 2018 approximately 1,252 teacher education students were hosted by schools and early childhood services across the University's regional campus footprint, including Bathurst, Wagga Wagga, Albury-Wodonga, Port Macquarie and Dubbo.
"Additionally, there are an increasing number of teacher education students who are studying online and who live in metropolitan cities as well as in regional or remote areas and they all require professional experience placements.
"These work-based learning opportunities enable teacher education students to apply theory in practice, to receive guidance and feedback from experienced supervising teachers, and to contribute positively to their host schools."
Dr Power recently presented a framed certificate of appreciation to Katoomba High School thanking them for being 'A valued partner of Charles Sturt University in providing professional placements and supervision'.
At that ceremony, the professional experience coordinator at Katoomba High School, Mrs Nadia Prazak (pictured second from left), was acknowledged for her ongoing support and commitment in organising placements in a range of faculties for CSU teacher education students.
Mrs Prazak said, "Hosting student teachers allows us to see the school through fresh eyes, and introduces us to new ideas and fresh approaches to old problems."
The acting principal of Katoomba High School, Ms Emma Le Marquand (pictured at right), said, "Ensuring the ongoing delivery of exceptional public education requires significant time and commitment from experienced teachers to develop the complex and nuanced skills required in graduates.
"Katoomba High School is committed to sharing its teachers' expertise with students.
"I would also like to thank Charles Sturt University for their ongoing partnership and commend their recognition of the outstanding work of Nadia Prazak."
CSU Bachelor of Education (Secondary) student Mr Nick Storm who recently enjoyed a placement in the school's technical and applied sciences department, said, "My placement at Katoomba High School was fantastic. They have a wonderful team up there. I thoroughly enjoyed it and learnt so much about what it means to be an effective teacher."
The 2019 Good Universities Guide rates CSU as the top Australian university for graduate employment and graduate starting salaries. Read more here:
http://news.csu.edu.au/latest-news/charles-sturt-university/csu-students/csu-retain-highest-employment-rate-for-graduates/csu-retain-highest-employment-rate-for-graduates