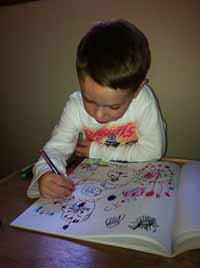 A valuable new video and brochure for Riverina parents on how young school children learn to write will be launched in Wagga Wagga on Wednesday 24 October.
The launch, at the Mount Austin Public School from 1.30pm, is one of the outcomes of four years of research by Dr Noella Mackenzie, a lecturer in literacy in the
School of Education
at Charles Sturt University (CSU) in Albury-Wodonga.
As part of the study, Becoming A Writer, Dr Mackenzie has worked since 2007 with pre-school, prep and kindergarten teachers in NSW and Victoria and their students to learn more about how teachers approach writing instruction and how young learners take on the challenge of writing their messages rather than telling their stories verbally.
The 12 minute video, developed by Dr Mackenzie, will be shown to the parents of kindergarten children in public schools in the Riverina from late this year. A take home brochure of advice for parents will also be made available through the schools.
Dr Mackenzie said, "These resources developed for parents highlight the relationship between talking, drawing and early writing. Children's early writing experiences and messages are far more positive if they are encouraged to draw and write.
"Most children will have started to experiment with creating messages through drawing and scribble long before starting school. When children start school, they will be introduced to write in a conventional way, using letters and words.
"Drawing is a creative and important means of communication and yet children's drawings are not always valued in the way they should be.
"To support the new learning required for writing - letters, words, sentences and punctuation - they should be encouraged to talk about their ideas to continue exploring them through drawing. Talking and drawing support children as they learn to work with the rules of written English."
The resources have been developed with the financial assistance of the NSW Department of Education and Communities Riverina (DEC) Equity program.
The Department's Priority Schools Programs Consultant for the Riverina Region, Mr Anthony Heffer said, "The input of parents and carers into learning is invaluable and the interest we have received from parents in developing these resources has reflected their desire to support their children.
"In particular, the development of early childhood literacy skills greatly enhances the engagement of young students and vastly improves their learning outcomes.
"Our work with Charles Sturt University literacy expert Dr Mackenzie also builds the knowledge and skills of staff and students across the Riverina."
Dr Mackenzie is one of four CSU academics to receive a 2012 Citation Award for excellence in learning and teaching from the federal government. Read more on CSU News
here
.
The new video can be viewed
here
.