Charles Sturt University (CSU) has released its Sustainability Scorecard for 2014, detailing the University's environmental gains over the past year.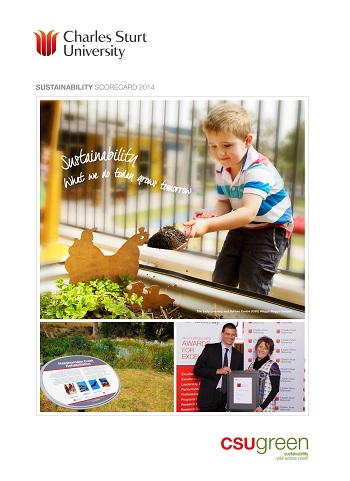 CSU has been producing a report on its environmental record since 2007, originally to track its resource use and emissions and to check them against set targets. Now known as the Sustainability Scorecard, the report has grown to encompass all aspects of sustainability including engagement, learning and teaching, and research. The 2014 report has been produced by CSU Green.
Highlights of 2014 include:
- The commissioning of the cogeneration system in Bathurst, which generated 675 MWh of electricity in just 10 weeks of operation following its commissioning in October 2014
- The delivery of the inaugural year of the new sustainability focused subject AGR202 Food, Environment and Culture in School of Agriculture and Wine Sciences to 91 second year students from the School of Agricultural and Wine Sciences at Orange and Wagga Wagga
- The awarding of $93 000 funding from the NSW Environment Protection Authority for the 'Hey Tosser!' Bathurst project – a partnership between Bathurst Regional Council and CSU to reduce litter
- Improved scrutiny of investment decisions to ensure strong environmental and social governance. CSU has adopted a set of responsible investment guidelines to shape investment decisions and provide guidance to fund managers
- Foundations were laid for an educational, environmental walk at Bathurst. The three kilometre eco-walk will trace the campus perimeter and feature signs explaining a variety of historical, cultural and flora and fauna facts
- CSU launched an educational program to assist staff and students to understand the impacts of vehicle use decisions by establishing a simple-to-read rating scheme for all vehicles in the CSU Fleet
- ResCycle, an initiative of Residence Life for students living on campus at Albury-Wodonga focused on recycling knowledge and awareness. It was expanded to Dubbo and Orange
- Approximately 2 882 native groundcover, shrubs and trees planted by CSU staff and students
- Travel by CSU vehicles fell slightly and travel by air dropped by 27 per cent.
Deputy Vice-Chancellor Administration Professor Ken Dillon said, "Congratulations to all those involved in the production of the Sustainability Scorecard 2014, and especially to those staff, students and community members whose contributions have been recognised in any of the past Scorecards.
"I hope their work inspires more of us to become involved in actively contributing to a sustainable future for all."