* People with Parkinson's in rural and regional NSW are greatly disadvantaged by lack of services
* There's a lack of research evidence evaluating neurological nursing services in rural NSW
* CSU nursing researchers working Parkinson's NSW to provide evidence to governments to improve the health care services for people with Parkinson's disease in rural and regional NSW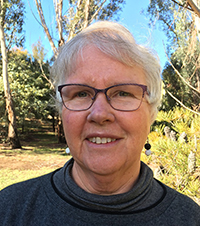 A Charles Sturt University (CSU) nursing research team has been engaged by Parkinson's NSW to undertake a project in rural and regional NSW.
The research team leader Associate Professor Rachel Rossiter (pictured) in the CSU School of Nursing, Midwifery and Indigenous Health said CSU nursing researchers are working collaboratively with the community organisation Parkinson's NSW to improve the health care services provided for people with Parkinson's disease in rural and regional areas of NSW.
"Recognising the gap in services for people with a debilitating and deteriorating chronic neurological condition, the research aims to provide evidence that will support Parkinson's NSW's advocacy role to state and federal governments so that the current deficit in specialist neurological nursing services in rural and regional areas of NSW is addressed," Professor Rossiter said.
"Although the prevalence of Parkinson's disease is comparable to other National Health Priority Areas such as cancer and cardiovascular disease, people with this condition in rural and regional areas of NSW are greatly disadvantaged by the lack of services. Parkinson's NSW is seeking to encourage the employment of more specialist nurses, because nurses can make a difference."
Parkinson's disease is a chronic, neurodegenerative, incurable, complex and disabling neurological condition. Prevalence increases with age, and is higher in rural areas. Disease progression is a major driver of costs and carer burden, with increasing risk of hospital and residential care admission and a need for specialist services. Integrated, specialist nursing care is largely absent in regional communities, leading to lower health-related quality of life and poorer management of the condition compared to urban areas.
The CSU research team consists of Associate Professor Rachel Rossiter (lead), Associate Professor Marguerite Bramble, Dr Annabel Matheson, and Mr Vincent Carroll (Parkinson's Clinical Nurse Consultant, Mid-North Coast Local Health District).
The two-year project is in three stages, and Stage One the literature review has been completed.
Professor Rossiter said, "The recent literature review completed by the research team identified best practice neurological nursing models focused on improving quality of life through nurse-led clinics, early intervention strategies, specialist neurological assessment, technological advances such as telemedicine, multidisciplinary and interdisciplinary collaboration, support for family and carers and greater in-reach into acute facilities.
"Specialist primary nursing services that maximise the scope of the nursing role, are multidisciplinary, and use the latest technological advances are more likely to be sustainable and cost effective for service providers and people with Parkinson's in regional communities. To date, however, there is a lack of research evidence evaluating neurological nursing services in rural New South Wales."
Stage Two of the project involves case study research evaluating the impact of two specialist neurological nurse positions in regional NSW. Parkinson's NSW has funded two specialist nurse positions, one based in Coffs Harbour and one in the Shoalhaven region. This project will evaluate the two different models employed, compare and contrast the findings against the findings from the literature review, and support the adoption of an evidence-based model of specialist nursing practice for people living with Parkinson's disease.
Stage Three consists of cross-sectional mixed methods research to examine the role of community groups which support people living with Parkinson's disease. This will be commenced in July 2018 by Master of Philosophy (Research) student Mr Vincent Carroll.