* CSU staff and final-year students will provide their next four-day clinic in Brewarrina from Tuesday 9 to Friday 12 October
* A free 'meet and greet' barbeque in the park in front of the Visitor Information Centre on Monday 8 October from 12 noon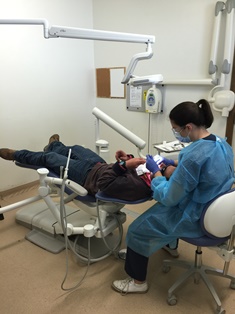 Dentistry staff and students from Charles Sturt University (CSU) will provide their next comprehensive dental clinic in Brewarrina in early October.
Deputy Clinical Director in the CSU School of Dentistry and Health Sciences Dr Andrea Liberato said, "Staff and students will provide a range of services during their visit to Brewarrina in the week starting Monday 8 October.
"We visit Brewarrina eight times a year but on this occasion we are very excited to be hosting a 'meet and greet' free barbeque on Monday 8 October in the park on the corner of the Kamilaroi Highway and Sandon Street.
"Staff from Western NSW Local Health District will also be there including Ms Jade Beetson who grew up in Brewarrina. Jade is a qualified dental assistant working in Orange, and it was Jade who encouraged Charles Sturt University to organise the meet and greet in the park.
"We hope to meet as many people as we can at the barbeque and encourage locals to come and say hello and have a bite to eat with our students and Jade.
"I particularly encourage parents to bring their children along to learn about the importance of dental health, because it can affect so much of the rest of our health."
Clinical dentistry services will then be offered at the Brewarrina Shire Council Clinic (enter from the car park off Bourke Street) from Tuesday 9 to Friday 12 October.
The CSU dentistry services to be offered include:
* check-ups, cleanings, fillings, extractions, dentures
* promoting community oral health awareness
* promoting healthy eating
* promoting regular brushing and good dental hygiene practices
* how to care for your teeth and void tooth aches
To make an appointment call CSU on 1300 278 642 or Brewarrina Aboriginal Medical Service 6839 2150 or simply drop into the clinic from Tuesday 9 to Friday 12 October.