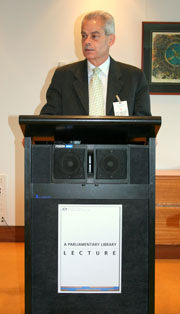 The Vice-Chancellor of Charles Sturt University (CSU), Professor Ian Goulter, told Federal parliamentarians in Canberra yesterday that health, agriculture, equitable access and professional education are the University's priorities to support growth in Australia's inland communities.
Professor Goulter's speech, delivered as a Federal Parliamentary Library Lecture, drew on positions presented in a CSU policy document issued Tuesday 4 September. The document, Growing Our Communities through Education and Research – CSU's agenda for inland Australia, sets out the University's ambitions as the national university of inland Australia.
The document and Professor Goulter's speech represent a different approach to engaging in advocacy for the University and its communities.
"CSU is firm in its belief that the people of inland Australia have a right to access a nationally recognised standard of higher education and research 'in their own backyard'," Professor Goulter said.
"We are committed to the ongoing development of University courses of relevance for the sustainable growth of inland Australia; the word 'inland' describes our geography, being a 'University' defines our mission.
"CSU has focused on specific areas that have been identified as important by our external stakeholders – agriculture, health and student access. While it is not a complete listing of our priorities, the challenges are to:
1. maintain and improve both the health and well-being of inland Australians, and the clinical practice education experiences for students who want to make health their career;
2. grow the agricultural sector, while sustaining our environment;
3. ensure continuity of supply and retention of qualified professionals; and,
4. ensure equitable access to local nationally and internationally recognised education opportunities, including on campus accommodation.
"It is our intention to add to each of these areas over the coming months to define a clear and consistent policy position on all our priorities across the University.


"This is not a set of demands, but a means to explore the opportunities to tackle the challenges we face. It recognises the need for federal government commitment to funding research at the University as a strategy for the sustainable development of regional and inland Australia.
"We welcome comments and input from all who wish to contribute to the sustainable growth of the University and our inland communities," Professor Goulter said.