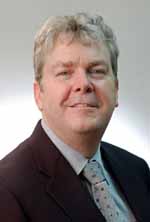 A former paramedic from New York City has joined Charles Sturt University (CSU) as professor of paramedic practice and leadership, declaring that the University offers its students one of the most impressive paramedic programs in the world.
Professor Brian J Maguire said that CSU offered "a number of attractive elements" that led him to take up his role at the
School of Biomedical Sciences
in Bathurst.
"Charles Sturt University has made an extraordinary commitment to paramedic education," he said.
"The 500 current undergraduate and postgraduate paramedic students have one of the most impressive paramedic courses in the world. The staff are not only extraordinary teachers, with decades of clinical experience, they are also dedicated to the development of the paramedic profession. Many of them are pursuing advanced degrees, are conducting research and are staying involved with the profession on many levels.
"The paramedic staff all share the goal that we want to prepare our students to be able to work anywhere in the world. We want to help them become not only outstanding paramedics but also well-rounded people who are prepared to lead productive and happy lives."
Prior to his academic career, Professor Maguire served as a paramedic in New York City for 20 years. His groundbreaking research in the United States was the first to show that ambulance personnel in that country have an occupational fatality rate and a non-fatal injury rate that is far above the national average.
Reflecting on his research, which he has extended to Australia, Professor Maguire said, "We now know that paramedics have the sixth highest rate of occupational injuries in Australia. During the most recent 10-year period of available data, there were 200 collision-related injuries. In NSW alone the number of assault cases among paramedics has risen from 75 to 120 cases per year between 2006 and 2009. We know the number of injury cases has been steadily climbing over the decade, and we now know that interventions to mitigate these risks are necessary to protect the workforce."
Asked about the emerging issues that confront the profession in Australia and elsewhere, Professor Maguire said, "The paramedic profession is the most respected in Australia. One of the challenges is to continue to earn that respect. We do that by continually working to improve our services. We also recognize that each of us as individuals, and by our individual actions, contributes to that reputation, so we must also work on continually improving ourselves."