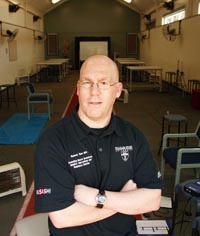 He helped the Indonesian national team win medals at the XXIX Olympiad in Beijing, China, shared a bus ride with Jamaican gold-medal sprinter Usain Bolt, met the entire US Olympic basketball team, and narrowly missed catching the football David Beckham kicked into the crowd at the closing ceremony.
Now Charles Sturt University (CSU) lecturer Dr Stephen Bird is back on Bathurst Campus to pass on the benefits of his experience at the Beijing Olympics to his students at the School of
Human Movement Studies
.
Dr Bird's expertise is in strength and conditioning and this led to his contract with the Indonesian National Olympic Committee (INOC) many months before the Games to help prepare our northern neighbour's athletes for the world's biggest sporting event.
"I brushed shoulders with Australia's greatest athletes when travelling to and from events on the Australian team bus," Dr Bird said.
"While I wasn't there for the Olympics opening ceremony, I was centre-field for the spectacular closing ceremony. It was fantastic walking as part of the Indonesian national contingent, I was only five people away from the guy who caught the ball that David Beckham kicked into the crowd to mark the symbolic passing of the Olympics to London in 2012.
"All the events I witnessed were outstanding, and just being in the athletes dining hall was amazing because there were so many athletes there. Many from poorer nations couldn't believe the amount and variety of food available.
"The security was good, as expected, and the Chinese officials were wonderfully polite. Even the pollution levels were OK as a result of the efforts to rein it in."
Dr Bird's role as Department Head, Strength and Conditioning (S&C) allows involvement with Indonesian archery, weightlifting, badminton, and track and field athletes, providing assistance to his S&C staff. "This experience has motivated me to want to contribute to the next Olympic Games," Dr Bird said.
He explained that CSU hopes to formalise a new expanded longer-term strength and conditioning contract with INOC, particularly in the lead up to the South-East Asia Games in 2009.
"Delivering strength and conditioning to Indonesian athletes feeds into how the School of Human Movement Studies delivers its courses. It increases the opportunities for students to gain overseas work experience as part of their education, and it leads to improved employment opportunities for them because we are building CSU's links and reputation in this field," he said.
For all his involvement and brushes with celebrity athletes, Dr Bird said one Olympic highlight that will abide is the look of delight on the face of a young Chinese boy in the closing ceremony crowd when he gave the boy his official INOC cap.
"It was as though I gave him a gold medal," Dr Bird said. "He was ecstatic. I will always cherish the memory of that moment."