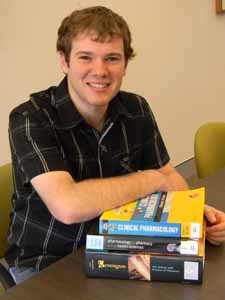 Retiring regional pharmacists can rest assured that the next generation of pharmacists will continue to offer a high standard service, with students like Daniel Flavel preparing to graduate.
Mr Flavel, 22, has travelled from Tamworth to Orange to complete a
Bachelor of Pharmacy
at Charles Sturt University (CSU) and while it may not seem that far to travel, Mr Flavel has certainly come a long way since leaving high school.
Mr Flavel finished his schooling at Carinya Christian School with a good idea of what profession he wanted.
"As part of a Business Studies project in Year 11, I did some work experience at Howle's Amcal Pharmacy," Mr Flavel said. "It was an area I was interested in and I loved sciences at school and dealing with people, so it seemed like a good mix."
After his work experience he was offered a job as a dispensary technician after school and he spent the next 12 months deciding where he would like to study Pharmacy.
Already accepted into Charles Sturt University through the Principal's Report Entry Program, Mr Flavel headed to Orange to begin his studies.
"I loved the country lifestyle and the close relationship you could have with your lecturers. The idea of being in a class of 35 instead of 350 was appealing to me. I am a name, and not just a number," he said.
"Orange is similar to Tamworth – it's not at all a country town. It has everything you need, it's not far from Sydney and, to me, the snow is a plus.
"The course gave a great understanding of the foundations behind Pharmacy and you build on the foundation by going into placements and applying that knowledge."
Although theory is a crucial part of the course, students get to experience the practical side of Pharmacy from their second year. Mr Flavel's placements have included Blayney, Bathurst, Parkes and Orange but his favourite so far was in a small community near Darwin.
"I was amazed at the remoteness of the Northern Territory and loved the challenge of dealing with the wide range of issues that come through the door."
Mr Flavel has been awarded six scholarships and five awards since he began his studies, including the prestigious Pharmacy Guild Rural and Remote Scholarship of $10 000 per year of study. As part of this scholarship, Mr Flavel has worked with a mentor who happens to be his previous employer at Howle's Amcal Pharmacy in Tamworth, Mr Ian Howle.
"It's fantastic to have scholarships that encourage graduates to practice in the bush," Mr Howle said. "I think working as a pharmacist in regional Australia is a lot more rewarding than working in the city. You utilise a wide range of medical skills and counselling skills, and make some strong connections with people from all walks of life."
Mr Flavel will graduate with Honours in 2012 and plans to work in regional Australia while also undertaking mission trips to third world countries where pharmaceutical skills are needed.
"I'm always looking for new challenges and I'd like to use my knowledge and experience to give first hand assistance to those who need it most. It's great to be part of a profession that gives back and contributes to people's wellbeing."