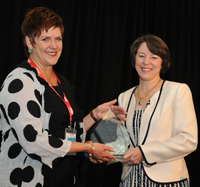 A leading Charles Sturt University (CSU) speech and language acquisition researcher explained her research into children's multilingual speech when she delivered the Elizabeth Usher Memorial Lecture at the Speech Pathology Australia national conference on the Gold Coast this week.
Professor Sharynne McLeod from the CSU
Research Institute for Professional Practice, Learning and Education
(RIPPLE) in Bathurst, is conducting a landmark study, as part of her Australian Research Council Future Fellowship, to investigate the number of Australian children who speak a language other than English with communication impairment. She will also explore and develop tools to ensure they receive the support they need.
Professor McLeod said, "We know that 12 to 13 per cent of school children have a communication impairment, but there is a large gap in our understanding of how this applies to children who learn languages other than English.
"Over 15 per cent of Australian four to five year-old children speak a language other than English at home and their needs are just as important as other children.
"Early intervention is crucial, because if left untreated, communication impairment can lead to literacy and numeracy problems in later school years, and employment and social disadvantage in adult life.
"So the challenge is to provide speech pathologists with the tools to be able to assess whether a child has difficulty learning all languages, or whether they only have difficulty learning subsequent languages.
"Speech pathologists can feel under-resourced and under-prepared for working with multilingual children. Yet recent technological advances have enabled reappraisal of best practice through local, national, and international partnerships."
Professor McLeod's study uses data from several longitudinal studies of Australian children, as well as extensive work with speech and language professionals around the world, to develop international speech assessment tools that will support the diagnosis of communication impairment in more than 40 languages. Free resources are available
here
. Learn more about Professor McLeod's research at her
blog
.
Ms Gail Mulcair, CEO of Speech Pathology Australia, said Professor McLeod's invitation to present the prestigious Elizabeth Usher Memorial Lecture at their 2013 conference was "overwhelmingly supported by all of Council and is an acknowledgement of [her] extensive knowledge, expertise and contribution to the profession." She also received the Award for 2013 which was presented at the conference.
Speech Pathology Australia
is the peak national body for more than 5 000 speech pathologists, and you can find those in your local area via the website, or learn more about the
Speech Pathology Australia's 2013 Conference
,
SEA
change:
Synthesize, Evaluate, Act!.