A Charles Sturt University (CSU) researcher is working with colleagues in China as part of the push to develop healthier grains and functional foods.
Loading...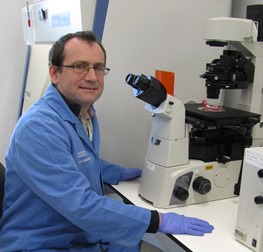 Lecturer in microbiology Dr Padraig Strappe, from CSU's School of Biomedical Sciences in Wagga Wagga, has just returned from a visit to Tianjin University of Science and Technology in China.
It is part of an ongoing scientific collaboration to share knowledge, learn new technology to support further research, and lay the groundwork for future student exchange.
Dr Strappe's research, through the Australian Research Centre (ARC) Industrial Transformation Training Centre for Functional Grains at CSU, has developed a new technique of cell culture to rapidly screen a wide variety of grains for health benefits.
"We can analyse a wide range of cell types for grain bioactivity through use of adult stem cell technology," said Dr Strappe.
"This involves changing a stem cell into cell types which are important in certain diseases and determining what effect grain extracts may have on these cells.
"For example, changing a stem cell into a fat cell, known as an adipocyte, then determining in cell culture whether a particular grain extract can reduce this process of fat cell formation.
"This has implications on potential dietary interventions for treatment of obesity and development of functional foods.
"The technology allows us to rapidly screen a wide variety of grains for health benefits and to focus further research on those that show potential. It also allows us to understand at a cellular level what effect certain types of grains are having."
Over the past two years scientists from Tianjin University of Science and Technology have visited CSU to learn the new technique while Dr Strappe has made several visits to China.
"Together we're really advancing this field of searching for bioactivity and using cell culture as a screening assay," said Dr Strappe.
"It's very exciting, China is changing rapidly and their investment in science is quite large so being part of a lab in China means being exposed to high end technology.
"It's always fascinating to learn more about culture and language and to form long-term friendships and collaborations."
Dr Strappe's visit to China has been supported by funding from the Tianjin State Administration through a High-end Foreign Expert award.