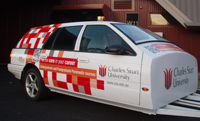 A specially constructed pull-apart vehicle to help train paramedic students to free victims trapped in motor vehicle accidents will be officially handed-over to Charles Sturt University (CSU) by representatives of TAFE Western Institute on Friday 19 July.
The Vice-Chancellor and President of CSU, Professor Andrew Vann, and the Head of the CSU
School of Biomedical Sciences
, Professor Lyn Angel, will receive the extrication simulation car, known as the 'trauma car', from Ms Kate Baxter, Director of
TAFE Western
, at the presentation at CSU in Bathurst.
Funding for the CSU Extrication Simulation Car was provided by a grant from Health Workforce Australia as an Australian Government initiative to better prepare CSU paramedic students for clinical placement. The unique design of the car, constructed by automotive apprentices at
TAFE Western, Dubbo
, permits the removal of all four doors, the pillars, the windshield and the roof, which allows students the same access to the patients as they would have when the mechanical 'Jaws of Life' are used in the field. Once the simulation has been completed the car can be reconstructed for use by the next group of students.
"This simulator enables our paramedic students to experience a realistic extrication simulation, and it is unique to the paramedic program at Charles Sturt University," Professor Vann said. "No other paramedic program in Australia has anything similar. I am proud of the ongoing partnership that has been developed between our paramedic program at Charles Sturt University and TAFE Western Dubbo. Also today, we hand-over the next car to be converted into a simulator for our paramedic students in Port Macquarie. This project enables the TAFE Western automotive apprentices to learn the skills they require for their future careers while providing our students with unique simulators."
Professor Angel said, "This project encompasses many of the aims of Health Workforce Australia, and the HWA grant to enhance paramedic clinical placements enabled development of the trauma car to prepare students to respond to motor vehicle collisions in a safe simulation setting so they are capable of managing these scenes when on placement with a state ambulance service. It has also allowed collaboration between Charles Sturt University and TAFE Western Dubbo to develop an innovative simulator to ensure the next generation of paramedics are capable of meeting the healthcare needs of their patients."
Ms Kate Baxter, TAFE Western's Institute Director said, "Our automotive students from Dubbo have done a fantastic job in reconstructing this car.
"This was a great opportunity for TAFE Western and Charles Sturt University to work in collaboration to build this unique trauma car and support the training of paramedics in western NSW."
CSU
paramedic
students will be present at the hand-over to demonstrate how the trauma car is used in simulation exercises. The trauma car surpassed all expectations when it was trialled during a recent residential school in Bathurst for postgraduate paramedic students, and was subsequently unveiled at the Community Careers and Recruitment Fair in Penrith on Saturday 4 May.
A second vehicle has also been donated to the University to be converted by TAFE Western Dubbo students for paramedic training purposes.
The hand-over presentation will be at 10.30am Friday 19 July at the Inter-professional Clinical Simulation Centre (building W11, at rear of campus, turn left at the end of Research Station Drive) at CSU, Panorama Avenue, Bathurst.