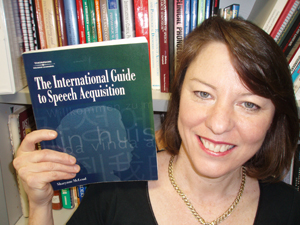 How children around the world acquire speech and language is the subject of a unique book, edited by a Charles Sturt University (CSU) academic, which was recently launched at an international convention in the USA.
The International Guide to Speech Acquisition, which was initiated and edited by Associate Professor Sharynne McLeod from CSU's School of Teacher Education, was launched at the American-Speech-Language-Hearing Association convention in Boston, Massachusetts, in November.
Professor McLeod said that The International Guide to Speech Acquisition is the first-ever book to provide a comprehensive guide that is ideal for speech-language pathologists and teachers working with children from a wide variety of language backgrounds.
"Speech and language practitioners around the world will find the information they need to identify children with speech difficulties and provide age-appropriate prevention and intervention.
"Starting in 2003, this resource took five years to compile, with 72 contributors to 57 chapters that cover 12 English-speaking dialects and 24 languages other than English.
"Over 10 000 delegates attended the convention and I was delighted that a number of the book's chapter authors from around the world came along to celebrate the launch and share some of the cake which had an image of the book on the icing," Professor McLeod said.
At the convention Professor McLeod also presented three poster sessions with CSU colleagues and doctoral students, and a three hour short course that was sold out over a month in advance.
The International Guide to Speech Acquisition is divided into two parts. Part One deals with the biological, cultural and social foundations of speech acquisition. Chapters focus on topics such as The Evolution and Development of Spoken Language, Historical and International Perspectives of Childhood, Speech Acquisition in a Social Context, Speech Acquisition and the Family, Personal Factors and Their Influence on Speech Acquisition, Multilingual Speech Acquisition, and Cross-cultural Interaction and Children's Speech Acquisition.
Part Two explores language acquisition around the world. The twelve English-speaking dialects examined include General American English, African American English, Appalachian English, Cajun English, Canadian English, English, Cantonese-Influenced English, Spanish-Influenced English, Irish English, Scottish English, Australian English, and New Zealand English. The twenty four languages other than English include Jordanian Arabic, Lebanese Arabic, Cantonese, Dutch, Filipino, Finnish, French, German, Greek, Hungarian, Israeli Hebrew, Japanese, Korean, Maltese, Norwegian, Portuguese, Putonghua (Modern Standard Chinese), Sesotho, Spanish, Thai, Turkish, Vietnamese, Welsh, and Zapotec.
Other contributors to the book from CSU include Associate Professor Leonora Ritter, Associate Professor Linda Harrison, PhD candidate Ms Nicole Watts-Pappas, and Mr Steven Gibbs.