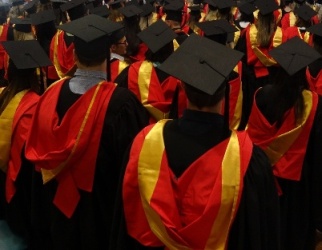 More than 700 people will attend two Charles Sturt University (CSU) graduation ceremonies in Port Macquarie on Monday 18 December.
Family and friends will join around 200 graduates at ceremonies at The Glasshouse, 32/40 Clarence Street in Port Macquarie.
Head of Campus at CSU in Port Macquarie Professor Heather Cavanagh said, "We congratulate our graduating professionals with their friends and families on the successful completion of their studies.
"Charles Sturt University takes pride in producing job-ready professionals who enter the workforce very insightful, making a positive impact, creating an inclusive society, and inspiring others.
"More than 200 graduates will receive their testamurs from the University in Port Macquarie this year. We invite you to come and share this important milestone with us."
Graduation highlights include the first Indigenous students to graduate from CSU in Port Macquarie.
9.30 am Monday 18 December – over 120 graduates from the Faculty of Arts and Education and the Faculty of Business, Justice and Behavioural Sciences, and nearly 300 guests:
School of Communication and Creative Industries
School of Education
School of Humanities and Social Sciences
School of Indigenous Australian Studies
School of Information Studies
School of Teacher Education
School of Accounting and Finance
Australian Graduate School of Policing and Security
Centre for Customs and Excise Studies
Centre for Law and Justice
School of Computing and Mathematics
School of Management and Marketing
School of Policing Studies
School of Psychology
Ms Mary O'Kane will deliver the Occasional Address. Mr Adam Poulsen will deliver the graduate's Vote of Thanks.
3pm Monday 18 December – nearly 80 graduates from the Faculty of Science, and more than 220 guests:
School of Agriculture and Wine Sciences
School of Animal and Veterinary Sciences
School of Biomedical Sciences
School of Community Health
School of Dentistry and Health Sciences
School of Environmental Sciences
School of Exercise Science, Sport and Health
School of Human Movement Studies
School of Nursing, Midwifery and Indigenous Health
CSU Council Member Mrs Jennifer Hayes will deliver the Occasional Address.