It has been a busy and successful 12 months for Indigenous Trainee at Charles Sturt University (CSU) Ms Rosie Powell, who is a regional finalist for the 2014 Aboriginal and Torres Strait Islander Student of the Year NSW Training award.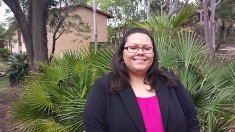 Ms Powell is an Administrative Assistant in the School of Nursing, Midwifery and Indigenous Health at CSU in Wagga Wagga. Employed under CSU's Indigenous Traineeship program in late 2012, she also commenced a Certificate III in Business Administration at TAFE NSW Riverina Institute and received the Teacher's Award for Overall Excellence upon graduation.
Having recently faced a selection panel for the state award, Ms Powell was selected as a regional finalist and will learn the result at the Riverina regional Training Awards presentation in Wagga Wagga on Thursday 12 June.
The University's Indigenous Employment Co-ordinator Ms Catherine Maxwell said, "I am so proud of Rosie's achievements. She is such an asset to Charles Sturt University. She has received this excellent result though her commitment and hard-work."
In addition to her graduation, work and award nomination, Ms Powell this year moved with her two young children from Narrandera to Wagga Wagga. She is also undertaking further study in business administration.
CSU employs Indigenous trainees in targeted entry level positions as part of its Indigenous Employment Strategy. Since its implementation in May 2005, more than 20 Indigenous trainees have been employed by the University.