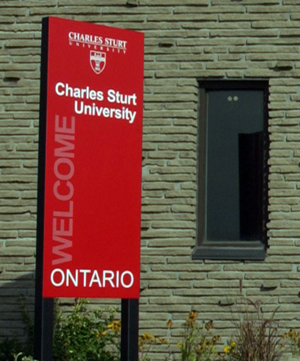 Charles Sturt University's (CSU) highly successful role in the internationalisation of higher education is the focus of the Australian High Commissioner's visit to CSU in Ontario this Friday 10 February 2006.
CSU, a leading educator of teachers in New South Wales, Australia, opened its doors in Burlington in August 2005, after being granted permission to offer the Bachelor of Primary Education Studies by the Minister of Training, Colleges and Universities and the Accreditation Committee of the Ontario College of Teachers.
112 students are currently enrolled in the Bachelor of Primary Education Studies - a one year graduate entry program which prepares candidates to teach in primary-junor classrooms in Ontario Head of CSU Ontario, Dr Rod Francis, welcomed the visit by the High Commissioner.
"We are excited by the success of our program in Ontario, particularly the strong community support we continue to receive. This visit by the High Commisioner is further recognition of this support."
"CSU has a demonstrated track record in producing high quality graduates and we are committed to ensuring our program in Ontario is first rate. We want our teacher graduates to have a real impact on schools in Ontario", Dr Francis said.
The Australian High Commissioner to Canada, Mr Bill Fisher, will arrive at CSU Ontario for a lunch-time meeting with Dr Francis and CSU Provost, Professor Bob Meyenn. This will be followed by tour and a reception at 2pm.
The High Commissioner will also be accompanied by Ms Sally-Ann Watts, Senior Trade Commissioner and Consul General with the Australian Trade Commission in Toronto.
Invited guests to the reception include the Mayor of Burlington, Mr Robert MacIsaac, Senior Administrators from local School Boards, representatives from McMaster University, Mohawk and Sheridan Colleges, and staff from the Ministry of Training, Colleges and Universities.