Dr Ian Goulter, the Vice-Chancellor and President of Australia's leading provider of flexible delivery education, Charles Sturt University (CSU), today dramatically increased the University's commitment to its Ontario campus, in Burlington, with the official launch of a new MBA program.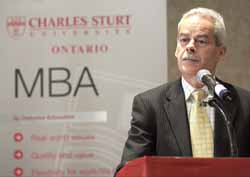 "In today's competitive marketplace, employers seek managers with advanced business acumen," said Dr Goulter. "Our new MBA program will produce highly effective leaders equipped with the knowledge and critical thinking skills to fuel business innovation and profit."
"Our MBA program features engaging, highly interactive technology and instructional design combined with online forums, high quality print materials and Ontario-based support and face-to-face tutorials," said Dr John Hicks, Dean of the CSU Faculty of Business. "Uniquely student-focused, our approach to an MBA enables candidates to balance busy schedules at home and work."
"I am delighted to see CSU bring Canadians an affordable, government approved, Australian-made international MBA program that offers unparalleled flexibility and excellent value," said Justin Brown, Australian High Commissioner to Canada. "This builds further on CSU's presence in Canada and makes a major contribution to further strengthening educational links between Australia and Canada."
"We are proud CSU calls Burlington their Canadian home, and we congratulate them on the expansion of their academic programs," said Burlington's Mayor Cam Jackson.
The new CSU MBA program is centered on 16 challenging courses designed to build superior business management knowledge and foster critical thinking skills and innovation. The program can be completed in two years. The program has a respected 20 year record of innovation and success, and attracts students from around the world.
In addition to its existing Bachelor of Primary Education Studies program in Burlington and the new MBA offering, the Ontario Minister of Training, Colleges and Universities also recently approved two other new CSU programs. These are the:
Master of International Education (School Leadership)
Bachelor of Early Childhood Studies
More information on the new MBA program is available
here.
For information on other Canadian programs, go
here.
The Master of Business Administration program is offered under the written consent of the Ontario Minister of Training, Colleges and Universities for the period from 17th April 2009 to 17th April 2014. Prospective students are responsible for satisfying themselves that the programs and the degrees will be appropriate to their needs (e.g., acceptable to potential employers, professional licensing bodies or other educational institutions).