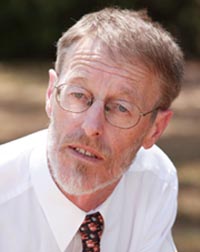 A strange alliance has reignited the carbon pricing debate in Australia, and led to clear differences in policies to reduce the national production of greenhouse gases.
Carbon pricing and climate change expert at Charles Sturt University (CSU) Professor Kevin Parton said it was strange to see Palmer United Party (PUP) leader Mr Clive Palmer MP spruiking a similar message to former US Vice-President and climate change 'warrior' Al Gore.
"To prune some of the complexity in the recent debate, I compared the policies of the Coalition, the PUP and Labor to show where Australia would be in 2015 under the currently proposed policies of these three parties," said Professor Parton, who is a senior researcher with CSU's Institute for Land, Water and Society.
"I think the stand-out feature is the close resemblance between PUP and Labor policies."
Table: Comparing Carbon Policies
| Policies | Coalition | PUP | Labor |
| --- | --- | --- | --- |
| Carbon tax | No | No | No |
| Emissions trading scheme | No | Yes | Yes |
| Direct action policy | Yes | No | No |
| Reduction in renewable energy target | Yes | No | No |
| Abolition of Clean Energy Finance Corporation | Yes | No | No |
| Carbon price change ($A/t) | Down from $24.15 to $0.00 | Down from $24.15 to $0.00 | Down from $24.15 to $8.60 ** |
| Potential reduction in electricity prices | 9% | 9% | 6% |
** The current European carbon price.
Professor Parton notes that although no party will continue the carbon tax, PUP and Labor both favour an emissions trading scheme (ETS), no reduction in the renewable energy target and continuation of the Clean Energy Finance Corporation: all of which are policies opposed by the Coalition. Only the Coalition favours direct action policy.
"The key difference between PUP and Labor is that Labor would go immediately to an international price in the ETS, whereas PUP would set the initial price at zero," he said.
"Many economists and environmentalists would see no reason for a zero price initially. Nevertheless, they would probably breathe a sigh of relief if ETS legislation was passed, even at zero price level, because it would then be possible for an easy shift to an ETS with non-zero price.
"It makes sense to have some form of market pricing of carbon, because it would place Australia in a stronger position a couple of years from now, as countries seek to harmonise pricing policies internationally," he said.
Professor Parton believes Mr Palmer has taken a strong stance on behalf of Australian consumers.
"Palmer argues that Australian households should receive the price reductions of electricity when the carbon tax is removed," he said."If this does take place, then Coalition and PUP policies could see electricity prices reduced by about nine per cent, while current Labor policies would see about six per cent reductions."
Professor Parton has previously commented in carbon trading schemes.