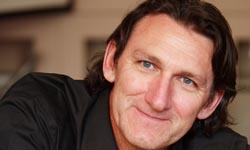 A senior Charles Sturt University (CSU) researcher has been recognised among some of the world's top research talent during a recent visit to China.
As a recipient of a prestigious 1000 Talents Award from China, CSU's Professor Geoff Gurr was part of celebrations marking the 65th anniversary of the People's Republic of China and the contribution of leading international experts currently addressing major scientific problems in China and worldwide.
"As part of the 1 000 Talents Fellowship I received from the Chinese government, I will make visits to China over the next three years to investigate the ecology of some the world's most important agricultural insect pests, such as the infamous diamond backed moth, and their natural enemies," Professor Gurr said.
"The funding I have received since I started in January this year has allowed me to recruit a handful of postdoctoral fellows and technical staff and commence a similar number of postgraduate research students, all based in Fujian Agriculture and Forestry University in southern China, together with necessary equipment and facilities, to address these issues.
"The untied funding allows me to approach basic ecological questions regarding these pests, from which we can produce new approaches in integrated pest management to control them."
After an initial formal reception in Fujian hosted by the Deputy Governor, Professor Gurr was one of nine delegates from the province to be escorted to Beijing to be greeted by senior Chinese political leaders in the People's Hall in Tiananmen Square as part of national celebrations.
Professor Gurr is particularly impressed by the strategic nature of the funding.
"I do not have to worry about meeting short term project milestones. It allows me to invest time in more fundamental investigations that can pave the way for breakthroughs further down the track," Professor Gurr said.
"The project offers scope to develop cleaner and 'greener' control of pests without the environmental and health risks associated with conventional insecticides."
Professor Gurr is in the School of Agricultural and Wine Sciences at CSU in Orange.