A Charles Sturt University (CSU) student team has reached the podium in competing in the 2017 international Internet of Things (IoT) Spartans Challenge.
CSU placed second among more than 250 universities worldwide that competed in the 2017 Challenge.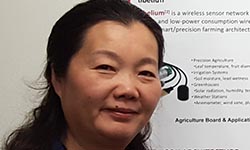 Led by CSU School of Computing and Mathematics lecturers Dr Lihong Zheng (pictured left) and Dr Sabih Rehman, the 12 students formed the only team to represent an Australian university.
The competition is an educational program that challenges students to 'brainstorm' and propose new ways to use IoT technologies to solve real world problems.
Dr Zheng explained that the experience of competing on an international level allowed students to showcase what they and regional Australia can achieve.
"The competition is organised by one of the world's top 10 IoT companies, Libelium, which is based in Spain," Dr Zheng said.
As a leading regional university, Dr Zheng explained it was important for CSU to be on the forefront of technology that bridges the digital divide between metropolitan and regional, rural and remote communities.
Dr Zheng said the team designed a tool that could be used by farmers to view, retrieve and download data captured by new IoT sensors placed in farm paddocks. This data can be viewed using a web browser on a laptop computer or via a smart phone.
"With the onset of digital agriculture, IoT can improve productivity in Australian farming. We teach students how to apply cutting-edge techniques to provide a cloud-based architecture for environmental monitoring on farms," Dr Zheng said.
"Participating in this competition allowed students to develop a practical application and demonstrate a feasible solution to a real-time case, and provided public recognition for the best IoT developers of the future."
The team from the Graham Centre for Agricultural Innovation included 12 undergraduate and postgraduate students, and was funded by the Office of the NSW Chief Scientist and Engineer within the NSW Department of Industry.