A group of viticulture and wine-making students from Charles Sturt University (CSU) has had a learning experience of a lifetime during a recent trip to Europe to study some of best established cool-climate winemaking regions in the world.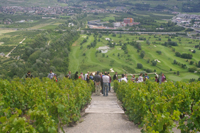 As part of a group of 35 students and academics from the School of Engineering at Changins in Switzerland, and California Polytechnic State and Cornell universities in USA, they smelt and tasted their way through wine-making and grape growing regions in Switzerland, Italy, Slovenia, Hungary, Austria and Germany.
"I really learnt the value of 'learning by doing'. To stand in a 400 year old terraced vineyard in Switzerland and be shown the effects of different pruning techniques and soil types meant far more to me than seeing the pictures in a textbook," Ms Brown said.
"I travelled and lived with like-minded enthusiasts for vine growing and winemaking from around the world, aged from their twenties to sixties, who were there to learn, critique and taste great wines.
"A fascinating part of the tour was Slovenia, as none in the group, including the Swiss, had been there or knew any of their wines. We were surprised that they had been making wines for centuries and were pretty sophisticated in their production methods."
"Our students visited vineyards and wineries and tasted wines from the slopes of the Alps to the Mediterranean coast across Hungarian plains and Slovenian forests. We wanted to show them the full scale of conditions for grape and wine production as well as regions not well known in Australia," Dr Auzmendi said.
"Sharing the trip with students from other parts of the world will help them to build an international network of contacts."
Ms Brown noted that most of their studies at CSU are focused on Australian wine production, which was to be expected.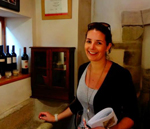 "But to look around the world and see what our competitors are doing is such a great experience for Australian businesses entering the global wine market," Ms Brown said.
The CSU group was supported by
CSU Global
, a program to increase international study experiences for CSU students.
Read more here
.
Through its School of Agricultural and Wine Sciences, CSU offers bachelor degrees in
viticulture
,
wine science
and
wine business
as well as a
Master of Viticulture and Oenology
. These studies provide advanced knowledge in viticulture and wine science. Students can complete their studies by distance education while working in the wine industry.