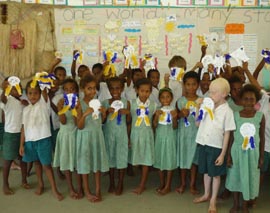 A group of Charles Sturt University (CSU) teacher education students will gain valuable pre-service professional experience in the Republic of Vanuatu during November.
The 13 female and one male students will spend three weeks in the South Pacific archipelago, east of northern Australia.
Mr Bob Hill, adjunct lecturer at the CSU
School of Teacher Education
in Bathurst will accompany and supervise the students from CSU campuses in Albury-Wodonga, Dubbo, and Bathurst on their professional practicum placement.
"This is my second trip to Vanuatu with students and they previously benefitted greatly by the experience and enjoyed a range of teaching experiences there," Mr Hill said.
"There have been at least four sojourns to Vanuatu by Charles Sturt University teacher education students following the establishment of links by Ms Sharon Milsome, from the CSU
School of Education
in Albury-Wodonga, who previously taught in the capital, Port Vila.
"The participating students have all taken part in a series of video conferences designed to prepare them for living and teaching in a dramatically different culture. They will be teaching in three very different schools in and around Port Vila; the Port Vila International School attended mainly by expats, the Central School, which is a large primary and secondary school in the middle of town, and the small Pango Village school 15 minutes out of town.
"For the Vanuatu students, it is an opportunity to be taught by teachers whose first language is English, and for the teachers it is an opportunity to exchange teaching ideas and practices with teaching students from another country.
"There is a developing body of research which suggests that students who undertake teaching practice in another culture find the experience stimulates them to be more resilient and reflective in the way they approach teaching challenges. It also provides them with insights about another culture which they will share with their students for decades to come."
The CSU
Faculty of Education
Professional Practicum Placement program is designed to provide Charles Sturt University students with the opportunity to participate in diverse professional experience placements. The program is structured and supported to enhances students' cultural awareness and increase their willingness to undertake placements in a range of locations.
The work experience trip to Vanuatu is supported by CSU Global.
In 2013, 125 CSU Faculty of Education students will participate in international programs. Of these, 122 will be on Faculty-led programs to destinations in Canada, England, Sweden, Cambodia, India, Nepal, Samoa, Singapore, Solomon Islands, and Vanuatu.