* CSU researchers seek Vietnamese-Australians to answer a survey examining their language maintenance
* The VietSpeech project should provide cultural, economic and social benefits for Australia
* A database of Vietnamese-Australian children's speech acquisition and a speech program will be developed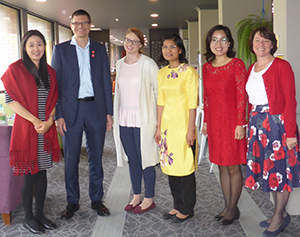 Following Refugee Week 2018 last week, researchers at Charles Sturt University (CSU) seek Vietnamese-Australians aged 18 and over to participate in a study that examines their use of Vietnamese and English while living in Australia.
The 'VietSpeech' research project is funded by an Australian Research Council (ARC) Discovery Grant and is titled Vietnamese-Australian children's speech and language competence (DP180102848) and is led by Professor Sharynne McLeod and Dr Sarah Verdon. Dr Cen Wang, Dr Van Tran and Ms Ben Phạm are project team members (pictured with CSU Vice-Chancellor Professor Andrew Vann).
Researcher Professor Sharynne McLeod (pictured far right) in the CSU School of Teacher Education in Bathurst said, "Australia is one of the most diverse multicultural countries in the world, and multilingualism benefits individuals and societies − culturally, economically and socially.
"Since the Vietnamese community is one of Australia's largest migrant groups, knowledge gained from the VietSpeech project may support cultural, economic and social benefits for Australia including increased multilingualism, social cohesion, and enhanced capacity to participate in a globalized economy."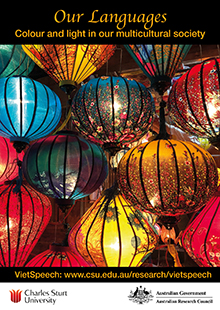 Professor McLeod notes that Vietnamese is one of the top five languages other than English in Australia (along with Mandarin, Arabic, Cantonese, and Italian) and is spoken by 1.2 per cent of the Australian population (Australian Bureau of Statistics, 2017).
"The Vietnamese community, with the majority entering Australia in the 1970s-1980s, is at a key point in time in terms of the maintenance of their home language," Dr Verdon (pictured third from left) said.
"A shift in language dominance among migrants has been documented to occur within three generations. Currently, many of Australia's children are becoming predominantly monolingual English users when they enter school."
The researchers said the VietSpeech project aims to support Vietnamese-Australian children and families to maintain their home language, enhance speech skills in Vietnamese and English, and equip English-speaking professionals to support multilingual children's speech.
"We invite people with Vietnamese heritage who are living in Australia and are 18 years and over to answer a comprehensive survey examining their language maintenance," they said.
"Those who are parents and have children under 18 years old living at home are invited to complete an additional short questionnaire exploring their family's language practices."
The survey is available here: https://www.research.net/r/VietSpeech
Vietnamese version: https://www.research.net/r/VietSpeech-Viet
The VietSpeech project consists of four studies:
Study 1: Vietnamese-Australian families' linguistic multi-competence and language maintenance
Study 2: Australian Vietnamese-English-speaking children's speech acquisition in Vietnamese and English
Study 3: Development of a multilingual speech program to be implemented by English-speaking professionals
Study 4: Feasibility and efficacy of a Vietnamese-Australian children's speech maintenance program
Find out more about the Australian Research Council funded project at https://www.csu.edu.au/research/vietspeech