The achievements and aspirations of a leading Australian research scientist will be highlighted in China during her participation in an official Australian delegation to Beijing and Shanghai later this week.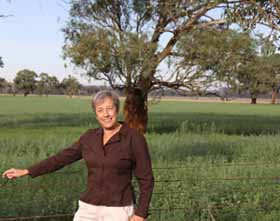 Professor Lemerle is Director of the
EH Graham Centre for Agricultural Innovation
- a collaborative alliance established in 2005 between Charles Sturt University (CSU) and Industry & Investment NSW - and Professor of Agricultural Innovation at Charles Sturt University.
Her achievements have been highlighted on the international stage through her participation in the film, Sisters, a documentary exhibit screening in the Australian Pavilion at the World Expo Shanghai 2010 in China.
Featuring the personal and professional stories of women from Australia and China under the theme 'Better City, Better Life', Sisters includes a profile of the career of Professor Lemerle as a research scientist and her lifestyle in Wagga Wagga in regional Australia.
"Like the other women in Sisters, I strive to make a difference to my community," Professor Lemerle said. "My community is rural Australia.
"Collaborative research at the EH Graham Centre will underpin the viability of future mixed farming systems in southeast Australia. On a personal level my research is developing ways to reduce the impacts and costs of weeds and reduce pesticide use to ensure sustainable farming practices."


In support of the Sisters project, Professor Lemerle is a member of the official delegation to China of Australia's Governor General, Her Excellency Ms Quentin Bryce, AC, in June. The visit will take in the World Expo Shanghai 2010.
"The film and the visit to China with the Governor General is a fantastic opportunity to highlight the important research underway at the EH Graham Centre and to continue to strengthen our collaborative research links with China," Professor Lemerle said.
"The needs and challenges of resilient rural communities in Australia and China are similar as both countries face the issues of food security, climate change and water scarcity."
The documentary, Sisters is being screened in the Australian Pavilion at the World Shanghai Expo 2010 which opened on Saturday 1 May and runs until Sunday 31 October.