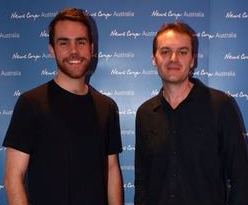 A Charles Sturt University (CSU) advertising graduate has become an industry star this week by winning a coveted international award at Cannes, France.
Mr Chris Colter graduated from the CSU School of Communication and Creative Industries in Bathurst in 2010 with a Bachelor of Communication (Advertising)/Bachelor of Business (Marketing) with Distinction, and in 2011 with a Bachelor of Communication (Honours) (First Class).
He is now Strategy Director at UM, and this week he partnered with his industry stable-mate, Mr Jack Smyth of Initiative (both part of the IPG Mediabrands group), to win the 2015 Cannes Young Lions Media Gold at the Cannes Lions International Festival of Creativity.
After first winning the 2015 Australian Young Lions competition, the national qualifier event run by News Corp Australia, Mr Colter and Mr Smyth represented Australia at the Cannes Lions International Festival of Creativity where competitors are given 24 hours to devise and deliver an advertising campaign proposal based on a formal brief. Read more here and here.
CSU lecturer in advertising Ms Anne Llewellynn said, "This is wonderful news, and I am so proud of Chris. He has taken on the world's best and proved he can deliver what the client wants on short notice and in a stressful competitive environment.
"Chris was probably one of the most talented and dedicated students I have ever worked with. His intuitive understanding of the role of strategy in marketing communications became even more apparent when I mentored him during his Honours degree. He just 'got it'. He has taken his amazing talent and passion into the industry and truly deserves this accolade."
Mr Colter was team leader for the CSU Kajulu Blue advertising team which became National Champions when they won the International Advertising Association 'Big Idea' in 2010. He joined UM in January 2012, and is now Strategy Director of UM's Sydney operation. He also periodically visits CSU in Bathurst to conduct a Master Class for the capstone subject in advertising.
The Head of CSU's School of Communication and Creative Industries, Associate Professor Chika Anyanwu, congratulated Mr Colter and Mr Smyth, and said this international award demonstrates that our students and graduates have the potential to excel in their professions.
"Charles Sturt University has a very strong reputation for producing not only job-ready graduates but leaders in their respective disciplines," Professor Anyanwu said. "Our advertising students have won multiple national and international advertising competitions while still at the University, and the degree has provided creative talent for agencies around Australia and around the world."