* MoU to build future talent base for regional commercial radio
* ACE Radio's endorsement a pathway into CSU Bachelor of Communication (Radio)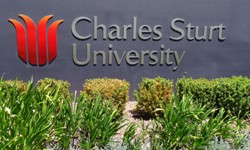 Charles Sturt University (CSU) and ACE Radio Broadcasters Pty Ltd have signed a Memorandum of Understanding (MoU) to work together to build the future talent base for regional commercial radio.
The MoU commits both parties to advance the Regional Radio Endorsement Program for students enrolled, or interested to be enrolled, in the Bachelor of Communication (Radio) in the CSU School of Communication and Creative Industries in Bathurst.
Acting Deputy Dean of the CSU Faculty of Arts and Education Associate Professor Lucie Zundans-Fraser said, "Charles Sturt University is looking forward to the opportunity to work with ACE Radio.
"This agreement will require that students regularly return to their home ACE radio station for workplace learning placements to build capacity and keep our radio talent in regional communities."

Group Content Director (Radio) at ACE Radio Network Mr Mat Cummins said, "The ACE Radio Network is very excited to partner with Charles Sturt University. We look forward to working together to deliver this unique training and practical experience to students.
"Students will have access to ACE Radio Network facilities and practical hands-on experience combined with industry-leading education from Charles Sturt University."
Course director in the Faculty of Arts and Education Dr Travis Holland said the partnership comes on the back of revisions to our radio program to meet the needs of radio organisations around the country.
"Students in the course will get a mix of experience in producing, presenting, and radio sales and operations," he said.
"In an exciting development, students will be able to complete the course either fully online or fully on campus, or a mix of both. Our close working partnerships with media organisations of all types help ensure CSU students start practical work from day one of their studies."
Dr Holland explained that under the agreement ACE Radio stations will advertise, interview and endorse candidates for CSU's Bachelor of Communication (Radio).
"Endorsement of candidates by ACE Radio is an identified pathway into the course under the course admissions options," Dr Holland said.
"ACE Radio stations will usually promote the course from about July to September each year, with endorsement to occur in October/November to facilitate enrolment of candidates into the course.
"Any enrolment of endorsed candidates in the course by Charles Sturt University is subject to the University's admission and enrolment policies, as amended from time to time.
"During their study of the course the students will regularly return to their home ACE Radio station, so it's a winning opportunity for anyone seeking a career in commercial radio."