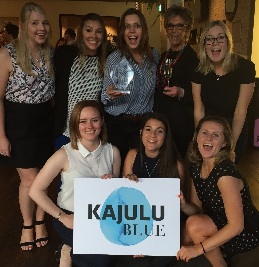 Excited, anxious, exhilarated, overwhelmed, privileged, honoured, and accomplished. That's how Charles Sturt University (CSU) students describe the experience of competing in and winning the annual national inter-university marketing communications competition.
'World-class' is how one judge, Ms Rowena Newman, described the standard of presentations at the finals of the 2015 International Advertising Association (IAA) 'Big Idea' Challenge in Sydney on Monday 26 October.
After pitches and eliminations earlier in October, two teams – Kajulu Red and Kajulu Blue – from the CSU School of Communication and Creative Industries competed against each other and two teams from other universities in the finals for the '2015 National Champions' title. Kajulu Blue won.
This is the sixth consecutive year that the two CSU Kajulu teams were selected as finalists by the panel of advertising industry experts and the 10thyear that CSU has won the 'National Champions' title.
Each year the IAA selects a charity for which all competing teams devise and pitch campaigns that the charity can later use. The 2015 client was Save the Children Australia, and the sponsorship partner was RB (Reckitt Benckiser).
The CSU students found it was a course-crowning experience that forged new friendships and imparted professional confidence on the eve of their graduation and entry to the industry workforce.
"I am incredibly proud of our achievement," said Ms Charlotte Berry, team leader of Kajulu Blue. "I think our ability to work as a cohesive unit was what gave Kajulu Blue a competitive advantage. Yes, the creative development process is extremely important, but it was the trust we had in one another and the hours spent together that led to a seamless and passionate execution."
Ms Danica Brindley, the public relations director for the Kajulu Blue team said, "I am still in shock that our team won! For both Kajulu teams to make the finals was a huge accomplishment in itself, but being on the winning team was the icing on the cake. I feel honoured to have represented the University at the IAA Big Idea competition, and privileged to have worked with five incredible teammates who have now become life-long friends."
Lecturer in advertisingat the CSU School of Communication and Creative Industries in Bathurst Ms Anne Llewellynn said, "This is a fantastic achievement and I am so excited for Kajulu Blue. They worked hard to win this amazing accolade and they were outstanding. While no second place is announced, both our Red and Blue teams were brilliant and we can be very proud of the graduates we produce from our course."
"Conceptualising the campaign was more difficult than we imagined as the objectives were quite broad," explained Ms Bridget Yeates, team leader and account director for Kajulu Red. "However, it was a challenge the team overcame with fantastic results. Pitching to such reputable judges was both exhilarating and nerve racking. The calibre of the CSU teams and their success is a credit to the course structure and lecturers. Speak to anyone within the advertising industry and they will tell you that Charles Sturt University students are six months ahead of other graduates."
Kajulu Red's strategic director Mr James Wilkinson said, "Kajulu Red definitely found out just how big the 'Big Idea' can really be. We were excited and anxious about taking on the most intense brief in the competition's history. After a painstakingly detailed process we developed a genuine story of hope that Save the Children could be proud of. Our areas of expertise and ability to make an industry-standard report and pitch to the client and IAA judges tested our presentation skills. Our course and its lecturers, especially Anne, has developed us into advertisers who can go above and beyond."
Head of School, Associate Professor Chika Anyanwu, congratulated the students and their Faculty advisor Ms Anne Llewellynn.
"Our School of Communication and Creative Industries staff and students have again demonstrated that we are the best in Australia," Professor Anyanwu said. "Both our teams were brilliant, their presentations were outstanding, and Kajulu Blue only just beat Kajulu Red. This is a wonderful achievement that does not come without hard work, professionalism, dedication, passion and sacrifice in mentoring and preparing the students. Congratulations to everybody."