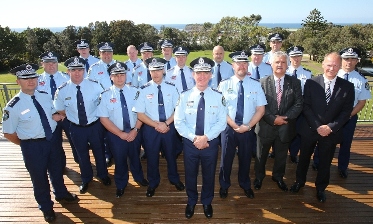 Charles Sturt University (CSU) and the NSW Police Force have collaborated to develop and deliver a professional specialist training program for public order policing.
The CSU Australian Graduate School of Policing and Security (AGSPS) and the NSW Police Force Public Order and Riot Squad recently delivered the first Advanced Public Order Commanders' Program in Sydney to 16 senior police at Superintendent and Inspector ranks who are all Tactical Commanders.
The program was opened by the NSW Police Commissioner Andrew Scipione, APM, and co-led by Chief Superintendent Steve Cullen and Mr Graham Sunderland, senior lecturer at the CSU AGSPS. Mr Bob Broadhurst, OBE, QPM, former Assistant Commissioner, Metropolitan Police London and Association of Chief Police Officers lead for Public Order also delivered a number of keynote sessions.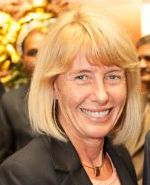 Executive Dean of the CSU Faculty of Arts Professor Tracey Green (pictured left) said, "The program is aligned with the University's Master of Leadership and Management (Policing and Security) and is intended to be delivered on an annual basis and available for all police jurisdictions.
"It is an example of the ongoing collaboration between Charles Sturt University and NSW Police Force to help develop a strong and professional specialist approach to public order policing."
Experts accept that public order policing will only become more complex in an ever-changing world, and the decisions made by public order commanders will continue to be subject to evermore probing challenges.
The intensive program was designed to build upon senior officers' extensive operational experience, prepare them for overall command, and further professionalise the role of the Police Commander in the public order arena. Of particular relevance were the sessions on law and powers, planning and execution, media, decision-making, crowd dynamics and psychology, and a forward look at developing protest trends. The combined operational and academic inputs in the program are intended to further develop professionalism in this area of policing.
At the conclusion of the week-long program Chief Superintendent Cullen was presented with a CSU award for Outstanding Leadership in Public Order Command.