Charles Sturt University (CSU) has expanded its footprint in the national capital with the opening of new offices in Canberra for teaching and research.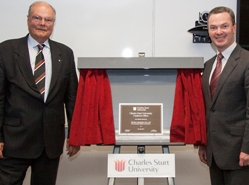 The Federal Minister for Education the Hon. Christopher Pyne, MP, opened the new space on Tuesday 22 July in the parliamentary triangle in Brisbane Avenue.
The Minister was joined at the official ceremony by CSU Chancellor Mr Lawrence Willett, AO and CSU Deputy Vice-Chancellor (Research) Professor Sue Thomas.
While opening the building, Mr Pyne praised CSU for its work in policing and security; customs and excise; and applied philosophy and public ethics.
Chancellor Willett said the new facility brought together related fields of study which offered students a depth of academic expertise which would be hard to match.
"We're very pleased to have this new facility. I think it really will provide our academics the right environment in which to be able to continue to achieve those things which are so important to us," he said.
The new premises will house the Australian Graduate School of Policing and Security (AGSPS), the Centre for Customs and Excise Studies (CCES) and the Centre for Applied Philosophy and Public Ethics (CAPPE). The office also accommodates staff from the University's Faculty of Education, Division of Library Services and Office of Corporate Affairs.
It includes office space for staff and postgraduate students, seminar or teaching room for up to 40 people, meeting rooms and video conferencing facilities integrated with the University's Information Communication Technology network.
It is a short distance from the headquarters of the University's School of Theology, the Australian Centre for Christianity and Culture in Barton.
In its 25th year in 2014, CSU has grown to a national and international institution with campuses and study locations in NSW, the ACT, northern Victoria and Canberra. The University delivers education to more than 38 000 students either on campus or by distance education.