New research into the adoption of high-speed broadband by Australian households has found four key factors influence the decision to adopt the technology.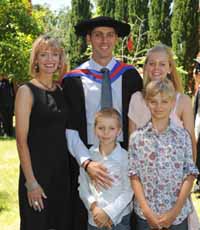 The research by Charles Sturt University (CSU) graduate Dr Peter Adams was the first study to identify purchase complexity as a factor in household technology adoption. His research also found lifestyle issues were a stronger influence than cost in affecting the household decision process.
Using focus group interviews and a national survey, Dr Adams developed a Household Adoption of Technology model. It includes lifestyle compatibility, perceived cost, social influence and purchase complexity as factors influencing Australian households to adopt high-speed broadband.
"My findings are of particular interest to governments who see high-speed broadband delivering economic and social benefits in areas including health, education and energy management," said Dr Adams.
It's been a big year all round for Dr Adams who took on a senior role at Wagga Wagga City Council, completed his PhD and his first Ironman triathlon.
"Studying part-time for eight years to finish my PhD and my first Ironman event in May, involving a 3.8-kilometre swim, 180-kilometre cycle leg and marathon run, have both tested my endurance."
Peter maintains research links with CSU and is a former academic, as well as having a commercial background working for Kendell Airlines and running his own advisory company. He sees his current role as the Director of Commercial and Economic Development at Wagga Wagga City Council as a great opportunity to use his research and commercial networks to grow the region.
Born in Wagga Wagga and educated locally at Kooringal Public and Kooringal High schools, Dr Adams has completed five tertiary qualifications, three through CSU, including a Master of Business Administration and now his Doctorate.
Dr Adams will be awarded his PhD titled Household adoption of technology: The case of high-speed broadband in Australia during a graduation ceremony at CSU in Wagga Wagga from 9.30am on Monday 12 December.
Read more about graduation at CSU in Wagga Wagga on CSU News
here
.