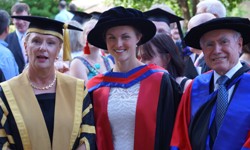 Charles Sturt University (CSU) research showing there may be a link between the diet of ewes and the sex of their offspring could help sheep producers boost profits.
Dr Catherine Gulliver, who was recently awarded her PhD during a graduation ceremony in Orange, investigated how short term feeding of diets high in omega-3 and omega-6 fatty acids can affect reproduction in sheep.
Her PhD is titled 'Improving Reproductive Efficiency in Ewes: Altering Nutrition at Joining to Increase Ovulation Rate and Influence the Sex Ratio of Offspring' and was carried out through Graham Centre for Agricultural Innovation in Wagga Wagga.
The research saw nearly 300 first cross ewes split into two groups and fed a special diet for six weeks before and three weeks after mating.
"The first group was fed a diet based on oat grain and some cottonseed meal that was high in omega-6," said Dr Gulliver. "The second group's diet was based on pea silage, similar to a diet expected when ewes graze pasture and was high in omega-3."
At lambing time researchers identified a 15 per cent increase in the number of female lambs from sheep fed the high omega-6 (grain) diet compared with those fed the high omega-3 (silage) diet.
"Of the lambs from the sheep fed a high omega-6 diet, 58 per cent were female and 42 per cent were male," Dr Gulliver said.
"That compares with 44 per cent female and 56 per cent male lambs from the sheep fed the high omega-3 diet. Despite differences in the sex ratio between the two groups, there were no differences in the total number of lambs born."
Dr Gulliver believes the research shows there is potential to alter the sex ratio of offspring by manipulating maternal nutrition around the time of conception, and thereby increase profits.
"If you can skew the sex ratio to your preferred gender to target specific production systems you could increase profit for a small input," she said
"For example prime lamb producers typically prefer male off-spring due to their faster growth rates and muscle accumulation, while flocks using maternal sires may prefer female offspring to be kept as replacements for the breeding flock.
"Ewes fed the high omega-6 oats diet, had higher omega-6 concentrations in their plasma and red blood cells, shorter time to oestrus and lambing and a higher proportion of female lambs compared to ewes fed the high omega-3 silage diet.
"More research is needed to determine whether the effect on sex ratio was pre-conception or post-conception and the exact duration of feeding required."
Since completing her PhD research Dr Gulliver has moved to Orange where she is currently taking a break from research to look after her two young sons.
Dr Gulliver's research has laid the groundwork for further research which is being carried out through the Graham Centre.