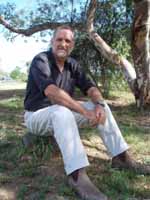 Climate change will make it even more difficult to manage wetlands sustainably in the Murray-Darling Basin, according to Australian and international wetlands experts who will meet in Canberra next week for an intensive workshop focusing on the Basin's wetlands now and into the future.
"Wetlands in the Basin are already under intense pressure from past and current management practices, including water allocations, and the drought," said wetland ecologist Professor Max Finlayson, who is Director of Charles Sturt University's
Institute for Land, Water and Society
(ILWS).
"Climate change is expected to exacerbate all these issues and further complicate how we manage our wetlands with large parts of the Basin, particularly in the south-east, expected to be warmer and drier in the future."
Professor Finlayson
is one of 21 technical wetland and water management experts who will meet on Monday 12 and Tuesday 13 July at the Christian Lab Conference Room, CSIRO, Black Mountain, for the workshop on adaptation options for the Basin's wetlands. He currently heads the 'Wetlands and Climate Change' theme of the Scientific Technical Review Panel for the international Ramsar Convention on Wetlands.
Also attending the workshop, organised by ILWS and the National Climate Change Adaptation Research Facility (NCCARF), is the Deputy Secretary General of Ramsar, Professor Nick Davidson, who is based at the organisation's Swiss headquarters.
"Globally our changing climate is increasing the challenge of managing wetlands sustainably so that they can continue to deliver their many benefits, including water security, to people. The Murray-Darling Basin exemplifies this," said Professor Davidson, who is also an adjunct professor with ILWS.
"Maintaining and restoring wetlands, including Ramsar sites, will become increasingly crucial to support people's adaptation to climate change. The approaches identified during this workshop will provide valuable insights to the Ramsar Convention's work in preparing advice for governments on ecosystem-based adaptation as a key tool for the future," he said.
National coordinator for NCCARF's Water Resources and Freshwater Biodiversity Network, Mr Brendan Edgar, said major challenges exist to deliver environmental water allocations to wetlands that are disconnected from river channels.
Professor Finlayson added that the workshop was an opportunity for experts concerned about the future of the Basin's wetlands to "come together and look at what we can and need to do, particularly in dealing with the impacts of climate change".
"We will identify the opportunities and constraints facing wetlands and how they can adapt (including physical or mechanical adaptations), as well as our social and institutional capacity to manage adaptation," he said.
"While this workshop is mainly an ecological and technical meeting about wetlands identifying the key issues, further steps will need to include more social involvement and involve the broader community."
Professor Finlayson said the workshop will provide input into the Murray-Darling Basin planning processes and other program planning and was part of the formal input by Ramsar's Scientific Technical Review Panel on climate change.
Other participants in the workshop include:
Dr Bill Young, director of CSIROs Water for a Healthy Country flagship, who will be speaking on "What climate change may mean for floodplain wetlands in the Murray Darling Basin";
Mr Jamie Pittock, WWF Research Associate with ANU's Fenner School of Environment and Society, who will be speaking on "Wetland adaptation in the Basin: Beyond environmental flows";
Dr Daryl Neilson from the Murray Darling Freshwater Research Centre, speaking on "Wetlands issues for the Murray Darling Basin"; and,
Mr Ian Burns, Director, Environmental Water Requirements, Murray Darling Basin Authority , speaking on "Climate change adaptation challenges and questions – some observations from developing the Basin Plan".