A Charles Sturt University (CSU) research team is monitoring the effects on what could be the largest intended release of water ever used to maintain the ecological health of the Murrumbidgee River that flows across southern NSW.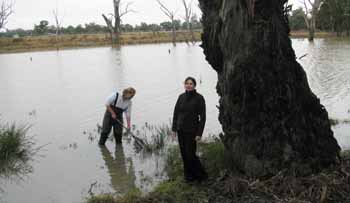 The team, led by Dr Skye Wassens from the University's
Institute for Land, Water and Society
, will monitor water quality and the movement of carbon in the wetlands next to the river, as well as the response of frog and fish communities and aquatic plants that also indicate the environmental health of these wetlands.
Over 150 gigalitres of water is currently being delivered to dozens of wetlands along the Murrumbidgee River. The release will also enter the Murray River system and spread as far downstream as the Lower Lakes and Coorong Lakes in South Australia.
"The Murrumbidgee is highly regulated by large dams which results in far fewer natural floods. This has caused a significant decline of wetlands along the river, particularly the River Red Gum forests that line the river and wetlands. Watering is critical to ensure the full recovery of wetland plants and animals which were under severe stress after years of drought. The iconic River Red Gum forests and the animals that depend on them need flooding to survive droughts," Dr Wassens said.
"Over the next 10 months, we will monitor wetland communities from Tumut to Carrathool, looking at the response of river and wetland communities before, during and after the water is released from Burrinjuck and Blowering Dams.
"This research builds on previous work by myself and Charles Sturt University Honours student Ms Carmen Amos during last year's natural flood, and draws on data collected as part of a monitoring project run by NSW government agencies in the 1990s. This will allow us to compare the health of communities before and during a major drought, after the big floods of 2010/11 and after the current delivery of environmental water.
"The results will help water managers and dam operators determine the long-term water requirements of River Red Gum wetlands and the responses of wetland communities to environment releases from dams in the Murray Darling Basin."
The release comes from water contributed by the Commonwealth and NSW governments, the Murray-Darling Basin Authority and landholders in the Murray-Darling Basin.
Federal Minister for Sustainability, Environment, Water, Population and Communities, the Hon. Tony Burke, MP,
hailed the water release
as the "largest use of Commonwealth environment water that has occurred to date".
Dr Wassens is joined in the CSU project by Associate Professor Robyn Watts and Drs Julia Howlitt, Alex Zander and Andrew Hall, with over $150 000 provided by the Federal Department of Sustainability, Environment, Water, Population and Communities.