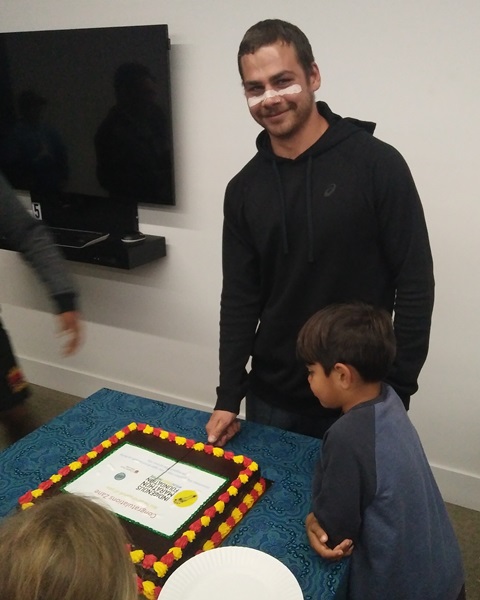 Charles Sturt University (CSU) student Mr Zane Sparke is getting used to his sore muscles.
The first-year Bachelor of Applied Science (Outdoor Recreation and Ecotourism) student has been selected in the national Indigenous squad to compete in the New York City Marathon in November.
A recent convert to marathon running, Mr Sparke, a Worimi man from Foster on the NSW Mid North Coast, was named in the 12-member Indigenous Marathon Project (IMP).
He has just returned from the squad's first training camp in Canberra where he participated in the 15-kilometre Reconciliation Run on Sunday 28 May.
"I started jogging at the start of the year after being introduced to a community running group at Port Macquarie by the University's Student Liaison Officer Nina Cass.
"I joined in the group's five kilometre runs once a week and then tried out for the IMP squad at the suggestion of Nina.
"However I didn't really know what I was trying out until right before the trial started."
Mr Sparke is now focussed on combining his training schedule for the 42-kilometre iconic race with his studies in outdoor recreation and ecotourism at CSU in Port Macquarie.
On his achievement to date, Mr Sparke said, "I definitely feel a lot fitter and very sore most of the time."
Ms Cass from the University's Office for Students said, "We're all very proud of Zane's achievements to date and we look forward to watching his journey to New York."
The Port Macquarie Indigenous Marathon Foundation Running and Walking (RAW) group is open to the public. The group meets at 5pm on Mondays, Wednesdays and Fridays at Westport Park in Port Macquarie.
CSU offers the Bachelor of Applied Science (Outdoor Recreation and Ecotourism) through the School of Environmental Sciences at Albury-Wodonga and Port Macquarie and CSU online.