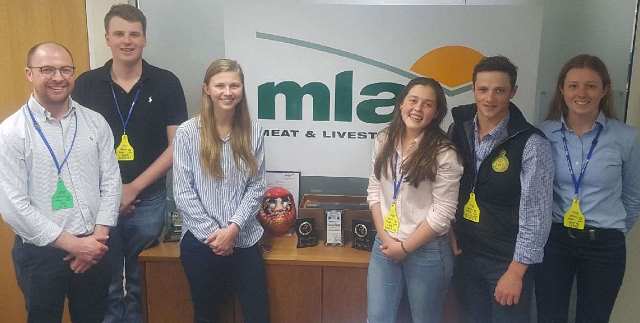 Two Charles Sturt University (CSU) students have secured spots in a national meat judging team to represent Australia in the United States in 2018.
Bachelor of Agricultural Business Management student Mr Jake Bourlet from Temora and veterinary science student Mr Lachlan Woods from the Bylong Valley in NSW have been named in the Australian Intercollegiate Meat Judging (ICMJ) team.
The pair will join three other Australian university students in a month-long trip to the USA in January.
The team will participate in a number of meat judging competitions as well as a tour of the US meat industry.
The team was selected from 10 candidates following training in Brisbane in September.
Mr Bourlet said, "I'm honoured to be included in the 2018 Australian ICMJ team.
"It is a great opportunity to see how the US meat industry is different to the Australian meat industry at the same time as making valuable connections for the future."
Both students have thanked the major sponsors Meat and Livestock Australia (MLA) and Australian Meat Processor Corporation (AMPC) for their support as well as the ICMJ committee and coaches.
CSU students in the ICMJ program received additional support from sponsors Rennylea Angus, Yavenvale Herefords, and Australian Pork Limited.
Mr Woods said, "It is a surreal feeling to be selected in the Australian team.
"For anyone thinking about a career or has limited knowledge in the red meat industry, I would thoroughly recommend being a part of the ICMJ program, as it will provide you with industry experience and connections to utilise after your studies."
CSU lecturer in farming systems and ICMJ committee member Mr Michael Campbell said, "These students are an excellent example of how the ICMJ program is developing future leaders for the meat industry.
"We are very proud of all the students who go through the program and their continued commitment to the industry following graduation."