From game-based learning to social media for home-work; information technology is changing the way children learn but many teachers still aren't equipped to make the most of it, according to Charles Sturt University (CSU) digital education expert Ms Judy O'Connell.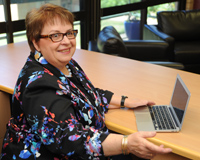 "It's not simply a technology or device issue, so much as a need for innovative ways to think about old and new media," said Ms O'Connell who is Course Director at CSU's
School of Information Studies
.
"Literacy and information fluency in digital environments is our contemporary challenge. The 'App generation' needs socially connected technology and ready forms of online communication embedded into the curriculum ecosystems in our schools."
Ms O'Connell said there's a plethora of flexible teaching tools for teachers, but using them can be challenging and, at times, intimidating.
"Students are no longer limited to learning material available within the confines of their school but are able to draw on almost boundless resources on digital devices and online," she said.
"They need guidance from teachers with expertise in navigating diverse information pathways within their personal and creative learning environments, socially connected networks, and globally enriched contexts."
Ms O'Connell said the flexible online program is designed for qualified education professionals including primary and secondary school teachers, teacher educators, learning support specialists and librarians.
"The course examines global knowledge networks and the opportunities for innovation in learning and teaching in these information-rich participatory digital environments," she said.
"While the value of information as knowledge remains at the heart of learning and teaching, technologies and social media platforms are driving an unprecedented reorganisation of the learning environment in and beyond schools.".