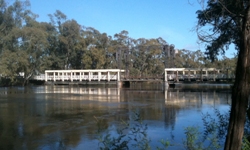 Researchers from Charles Sturt University (CSU) are on the lookout for trophy fish displayed in pubs throughout the Murray-Darling Basin that could hold vital information about the river system.
School of Environmental Science Lecturer Dr Paul Humphries and post-doctoral researchers Dr Keller Kopf and Dr Nicole McCasker are encouraging Basin residents to visit their local pub and help build a list of stuffed cods.
"What we need is for people to visit their local pub, have a look around for any stuffed cods and send us an email, comment in the Facebook group or comment on our blog with the name of the pub," Dr Humphries said.
"Stuffed cods displayed as trophy fish act as time capsules for the Murray-Darling Basin and are more than just cultural heritage; if there is a whole fish you have length, weight, location and date which provide really important biological information about what was in the river at a particular point in time."
Dr Humphries is hoping pub goers can help him find 100 to 300 trophy fish from around the Basin.
"If we can find enough trophy fish we will be able to develop a timeline and map of the Basin showing the health of the water ways," he said.
"We'll be able to compare our findings with historical records to understand more about past numbers of large fish.
"Written records about the Basin can be hard to find and may not include information specific to what you are researching. Similarly photographs can be distorted and size is not always accurately depicted. Stuffed fish, on the other hand, are solid, tangible evidence from which we can decipher accurate information."
By tracking how trophy fish have changed over time, Dr Humphries and his team will also get an indication of what the Basin could be in the future.
"Once we have established an idea of what the Basin used to be like, we will have a better idea of what it could be like in the future. What was once possible may be possible again," Dr Humphries said.
Dr Humphries is interested to hear about any stuffed Murray cod from within the Murray-Darling Basin in Queensland, New South Wales, Victoria and South Australia.
Details of the pub should be emailed to phumphries@csu.edu.au. Alternatively, residents can comment on Facebook www.facebook.com/groups/stuffedmurraycodinpubs or on the blog www.paulhumphriesriverecology.wordpress.com