A horticulture student from Charles Sturt University (CSU) has won a prestigious international travel scholarship.
Ms Caitlin Sawyer from the NSW Mid North Coast who is studying for a Bachelor of Horticulture, received the Sir John Pagan Horticulture Award during the Australian Institute of Horticulture (AIH) national awards dinner in Sydney in November.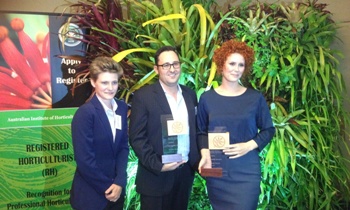 The award includes an $8 000 travel scholarship to the United Kingdom for further experience and training in horticulture.
Ms Sawyer is planning to take leave from her degree in 2015 to study and work in the UK.
"The Sir John Pagan Horticulture Award has opened some amazing opportunities for me.
"These would be impossible without the amazing support offered by the Big Brother Movement Youth Support (BBM), the AIH and Charles Sturt University.
"Already I have met some of Australia's horticultural elite, and collectively they have opened up a very exciting prospect of travelling to the UK with the opportunity of gaining valuable knowledge from some of the world's leading horticulturists.
"I'd love to see more and particularly younger people move into the industry, and I feel that with the receipt of this award I may now gain a broader perspective in the discipline and field."
Meanwhile, CSU horticulture graduate Mr Chris O'Connor from Sydney was named as the joint winner of the AIH Student of the Year Award.
Mr O'Connor is the policy and technical officer for the peak industry body, Nursery and Garden Industry Australia.
He used his acceptance speech to thank University staff from the School of Agricultural and Wine Sciences, noting that they were 'passionate, knowledgeable and committed to their roles'.
"Senior lecturer in horticulture Peter Mills deserves particular praise as his encouragement and support through the Bachelor of Horticulture program was first class," Mr O'Connor said.
"The Bachelor of Horticulture at Charles Sturt University is a great program for either commencing study in horticulture or building upon previous study."
Mr O'Connor will return to CSU in 2015 to study a Master of Sustainable Agriculture.
The horticulture degree is offered by distance education through the University's School of Agricultural and Wine Sciences.