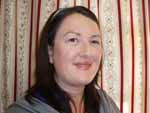 A Charles Sturt University (CSU) researcher says her postgraduate research shows there is often experimentation in the use of social media as part of organisational communication, and yesterday's debate on Twitter between leaders of the main NSW political parties is an example of such an experiment.
Ms Amalie Finlayson, a PhD student at the CSU
School of Communication and Creative Industries
in Bathurst, said, "Gauging from the response to yesterday's debate between NSW Premier Ms Kristina Kenneally, Opposition leader Mr Barry O'Farrell and Greens leader Ms Lee Rhiannon, it seems as though Twitter might not be the right forum to host a political discussion such as this.
"While a lot of people participated using the #penrithdebate hashtag*, the use of unmoderated Twitter hashtags such as this can leave a discussion wide open to hijacking.
"This was certainly the case yesterday, with spam and totally unrelated comments creating a chaotic stream of information, making it difficult to follow the debate."
Ms Finlayson said another factor affecting the Twitter debate yesterday was that Twitter itself was experiencing technical problems, with many 'tweets' appearing multiple times, for example, and the service also experienced slowness and other interruptions.
She said there are many benefits to using social media as part of a political campaign, as was demonstrated during the 2008 US Presidential election when social media was used very successfully by President Barack Obama's campaign team.
"However, there are also many potential pitfalls when combining social media and politics. As we try to make clear to our students in the School of Communication and Creative Industries, there are many different ways to use social media, both personally and professionally.
"While successful political social media campaigns do exist, there are many examples where these campaigns have not been so successful, and have even been highly detrimental.
"Nevertheless, in my opinion, social media will definitely continue to be used in political campaigns. Politicians will always try to reach voters in every way they can, including on social media spaces such as Twitter and Facebook.
"Whether they are successful in doing so, however, depends on how much they learn from other examples, both positive and negative, and their own experiments in this space, such as the one conducted yesterday by NSW politicians," she said.