Charles Sturt University (CSU) will host the 2014 Engagement Australia Conference in Wagga Wagga from Monday 21 to Wednesday 23 July.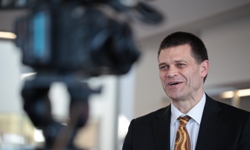 The conference, Engage and Innovate for Sustainability is organised by Engagement Australia, with the official opening from 4pm on Monday 21 July by Engagement Australia Chair Professor Pierre Viljoen, and CSU Vice-Chancellor and President, Professor Andrew Vann.
"Charles Sturt University is delighted to be hosting the 2104 Engagement Australia Conference as it aligns with our mission to advance higher education opportunities and research that meets the particular needs and aspirations of the people of regional Australia," Professor Vann said.
Professor Viljoen said engagement, collaboration and the resultant partnerships were critical to enabling knowledge exchange and should be a key focus for the university sector.
"This should not be seen as an 'add-on', 'nice-to-have' or 'focus-for-now', but rather a strategic national framework universities develop collectively and in partnership with government, business and society," Professor Viljoen said.
A highlight of the conference will be the session, In Conversations with Vice Chancellors from 11.30am to 12.30pm on Tuesday 22 July. Professor Andrew Vann will join Professor Scott Bowman (Central Queensland University), Professor Peter Lee (Southern Cross University) and Professor Jan Thomas (University of Southern Queensland) to explore current trends and issues facing university leaders in Australia.
The conference will also hear stories of engagement with speakers sharing their experiences of working collaboratively with various communities.
Keynote speakers include Dr Kerry Strand from Hood University in the USA, Emeritus Professor Geoff Scott from University of Western Sydney, Professor Robyn Keast from Southern Cross University, Dr Kevin Cullen from University of NSW and Dr Tamika Heiden, Knowledge Translation Australia. Further information on the speakers is available here.
You can download the full conference program here.
The conference runs from 11am Monday 21 July until1.30pm on Wednesday 23 July in the Convention Centre and Joyes Hall at CSU in Wagga Wagga.
Engagement Australia is a leading inclusive forum for the discussion and development of university-community engagement.