Charles Sturt University (CSU) Veterinary Clinical Centre staff at the
School of Animal and Veterinary Sciences
in Wagga Wagga are helping to treat horses burned in the recent fires that have devastated large parts of NSW.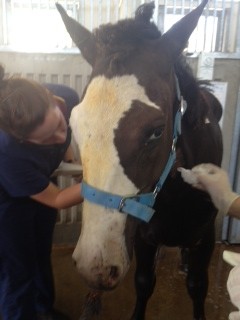 Two horses have arrived today from the Cobbler's Road fire at Bookham, NSW, suffering severe injuries. An eight-month old foal named 'Call Me Miss Surprise' has suffered burns to her legs, face, mouth and eyelashes. A heavily pregnant mare called 'Casey' has extensive burns to her abdomen and mammary glands. The pair was transported by their owner, Ms Heather Bovill, who lives on property,
Korlmi Hills
, ten kilometres from Bookham.
The horses came to the attention of CSU Veterinarian, Associate Professor Ken Jacobs, who also has his own private practice at Walleenbeen near Cootamundra. He was contacted by an RFS volunteer who had been fighting the fires around Bookham and who seen first hand the devastation of many animals in the area.
"I went to the property to see what I could do and it was this terrible moonscape in which everything was burnt," Professor Jacobs said.
"I have to say going through the fire-ground after a fire is particularly eerie. It's a terrible time for horse owners because they have such a close relationship with their horses and to see their animals so distressed is heart breaking."
Professor Jacobs said horses who endure severe fire need to have their various injuries identified. Treatment includes making them comfortable, attending to eyes, wounds and other medical problems. Pain relief and antibiotics are critical components of their management.
"A prognosis is terribly difficult to make, because often the burns initially appear not so bad and the problems begin appearing over the next few days, "he said.
He said it will take at least 10 days before they know if Casey and Call Me Miss Surprise will make it and even then, there could be complications to their lungs, feet and other body organs. CSU Senior Lecturers in Equine Medicine, Associate Professors Sharanne Raidal and Bryan Hilbert are leading the team in the recovery effort.
Horse owner, Heather Bovill thanked CSU for its assistance. "Two of my horses have already died from extensive burns and two others are missing," she said.
"At least there is a chance that Casey and Call Me Miss Surprise might be able to live thanks to the quick thinking actions of everyone involved." The Director of the CSU Veterinary Clinical Centre, Associate Professor Scott Norman, is asking the community for financial assistance to help treat the burnt animals.
"We are appealing for monetary donations so we can then buy the antibiotics and specialised feed that we need," Professor Norman said.
The staff at the Veterinary Clinical Centre volunteer their time to treat animals burnt in the recent bushfires.