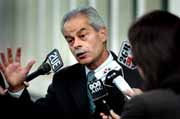 The Vice-Chancellor and President of Charles Sturt University (CSU), Professor Ian Goulter, has welcomed the announcement of the ministerial appointments for the new Labor government by the Prime Minister, Mr Kevin Rudd, MP.
Professor Goulter said that the higher education sector expected to work closely with the new government to ensure the best outcome for all Australians and the nation's future.
"I look forward to discussions with relevant ministers to consider how best CSU as the national University of inland Australia can contribute to Labor's 'Education Revolution'," Professor Goulter said.
"I particularly welcome the appointment of the Deputy Prime Minister, The Hon. Julia Gillard, MP, as Minister for Education, Employment and Workplace Relations. Placing the education portfolio within the Office of the Deputy Prime Minister shows that the Rudd Labor Government is serious about the role of education in the promotion of long-term economic and social growth in Australia.
"Australia is at a productivity crossroad," Professor Goulter said. "Skills shortages are a real and threatening barrier to sustainable long term growth, as well as to the health and well-being of all Australians. Nowhere is this more evident than in inland Australia.
"Because CSU is committed to advancing applied and strategic research of relevance to our inland communities, I congratulate Senator the Hon. Kim Carr on his appointment as Minister for Innovation, Industry, Science and Research. We are looking forward to working with the new Minister on strategies that promote the equitable development of research capabilities across the higher education system."
The Vice-Chancellor also congratulated The Hon. Nicola Roxon, MP, on her appointment as Minister for Health and Ageing. "I have enjoyed the opportunity of meeting with Ms Roxon on a number of occasions to discuss how CSU can contribute to addressing the health workforce crisis in inland Australia. Ms Roxon has a well-developed understanding of the issues facing inland communities and will bring her considerable skills to addressing these challenges.
"I also look forward to meeting with new Minister for Agriculture, Fisheries and Forestry, The Hon. Tony Burke, MP, and congratulating him personally on his appointment."
Professor Goulter congratulated The Hon. Bob Debus, MP, on his appointment as Minister for Home Affairs. "Mr Debus is an experienced and dedicated servant of the Australian community and is the local member for the electorate of Macquarie which now takes in CSU's Bathurst Campus. He will bring his considerable expertise to this new role."